Read our Lemlist review and see what other professionals have to say, learn about pricing, popular features, and discover all current integrations. Not sure if Lemlist is the right fit for you? Read our other sales tools reviews to learn more about what's out there.
Writing cold emails has always been a dreadful task. The idea that the receiver does not open the email, or worse, the email goes into spam, scares many people. But, what if we tell you that there is a solution to this age-old problem?
Lemlist is the ultimate answer to all your cold email-related queries. This platform helps you create personalized cold emails in no time. No wonder why every sales team and lead gen agency is using Lemlist today. In this post, we will investigate if Lemlist is worth the hype or not.
Lemlist Review: Customized Automation is the Future
Whenever you hear the word "automation," what is the first thing that comes to your mind? A standardized mechanical procedure, void of any personal touch? It makes sense if that's your answer, but what if we tell you there is a way to customize automated content.
Lemlist allows its users to send automated customized cold emails. These automated emails are tailored specifically to each receiver, therefore, decreasing the chances of the email ending up in spam. 
Don't have the time to reply to emails? Not to worry! Lemlist has got you covered. Through Lemlist, you can automate follow-ups catering specifically to any given email. From email marketing to sales campaigns, Lemlist aims to provide you with the necessary tools and services to be successful in your sales and telemarketing campaigns.
Lemlist Review – Main Features
Lemwarm:

Increase the reach of your email marketing through personalized emails generated automatically. Lemwarm allows you to interact with other Lemlist users through customized emails and automatically replies to them for you.

Personalized Content:

Create a stronger bond with your audience with the help of customized content. Lemlist allows you to personalize pictures, videos, and even landing pages to make your audience feel special.

Automated Follow-up:

Automatically reply to clients without losing any human touch. The follow-up messages can be personalized as to what is written in them to the delay between each text displayed to the client.

Liquid Syntax:

Segment your targeted audience into different groups and send customized content accordingly. This feature will help you in creating a better connection with your audience.

CRM Integration:

Optimize your CRM software and improve existing relationships. Lemlist allows you to easily integrate with the leading CRM software such as Salesforce, Hubspot, and Axonaut. 

Web extension: Want to integrate Lemlist into your LinkedIn account? No problem! You can install Lemlist's Google Chrome Extension and let Lemlist handle the rest for you.
Lemlist Review – Integrations
Lemlist smoothly integrates with these business tools:
CRM'S:

Salesforce, Hubspot, Pipedrive, and Axonaut.

B2B Lead Generation Tools

: Drop Contract, Uplead, LeadFuze, Bouncer, DeBounce, and Leadcamp.

Growth Tools:

Phantombuster, Albacross, Aircall, Droyd, Pabbly Connect, and Salesmsg.

Business Communication Tool

: Slack.

Automation Tool

: Zapier.
You can connect Lemlist with Slack, Google Drive, Facebook Ads, LinkedIn Ads, ClickFunnels, Asana, Trello, and many more apps via Zapier. 
There are two supported triggers and twelve supported actions listed on Zapier. These supported triggers and actions revolve around activity tracking; therefore, keeping you up to date with the latest activity revolving around your targeted audience.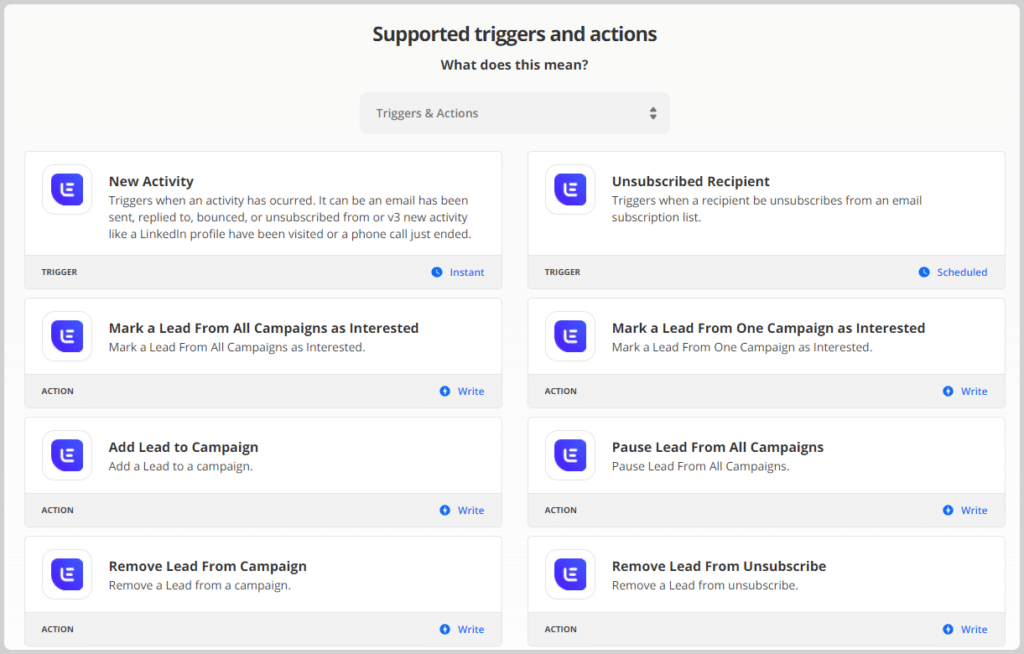 Triggers
New Activity

: This trigger will inform you about any recent activity that has occurred. It can either be a notification that an email has been sent or that someone has viewed your LinkedIn recently.

Unsubscribed Recipient

: Informs you about any recipient who unsubscribes from your email subscription list. This information can help you understand how effective your email marketing is in retaining existing clients.
Actions
Mark a lead from all campaigns as interested:

This action will allow you to mark the target audience for all the selected campaigns. It will enable you to send emails and interact with the desired audience, resulting in a more effective sales campaign.

Mark a lead from one campaign as interested:

Results are the same as the one stated before; the only difference is that this action allows you to select a target audience for one selected campaign.

Add a lead to a campaign:

This action enables you to add a target audience to any campaign. 

Pause lead from all campaigns:

This feature allows you to pause interactions with the target audience in all campaigns.

Resume a lead from all campaigns:

Results in undoing the action stated previously.

Remove a lead from a campaign:

This feature allows you to remove any target audience from a campaign. This action gives you the chance to fix any error made while previously selecting a target audience.

Remove a lead from unsubscribe:

Helps in bringing back a lead that was previously placed in the unsubscribed list

.
Stop emailing a lead in a campaign:

This gives you the right to stop sending emails to any given target audience in a campaign.

Add recipient to unsubscribe list:

This action helps you place unresponsive recipients to the unsubscribed list.

Update lead from a campaign:

It will allow you to make additions to any campaign's previously selected target audience.

Search lead:

This action gives you the liberty of searching up any target audience of a campaign.

Find or create a lead:

Helps in identifying the target audience of any given campaign.
You can always visit the Lemlist Zapier listing page to get additional information about the supported triggers and actions.
Lemlist Review – Pricing
Lemlist offers monthly and yearly installments. If you are confused about whether you should invest in Lemlist or not, you can always try out their 14-day free trial.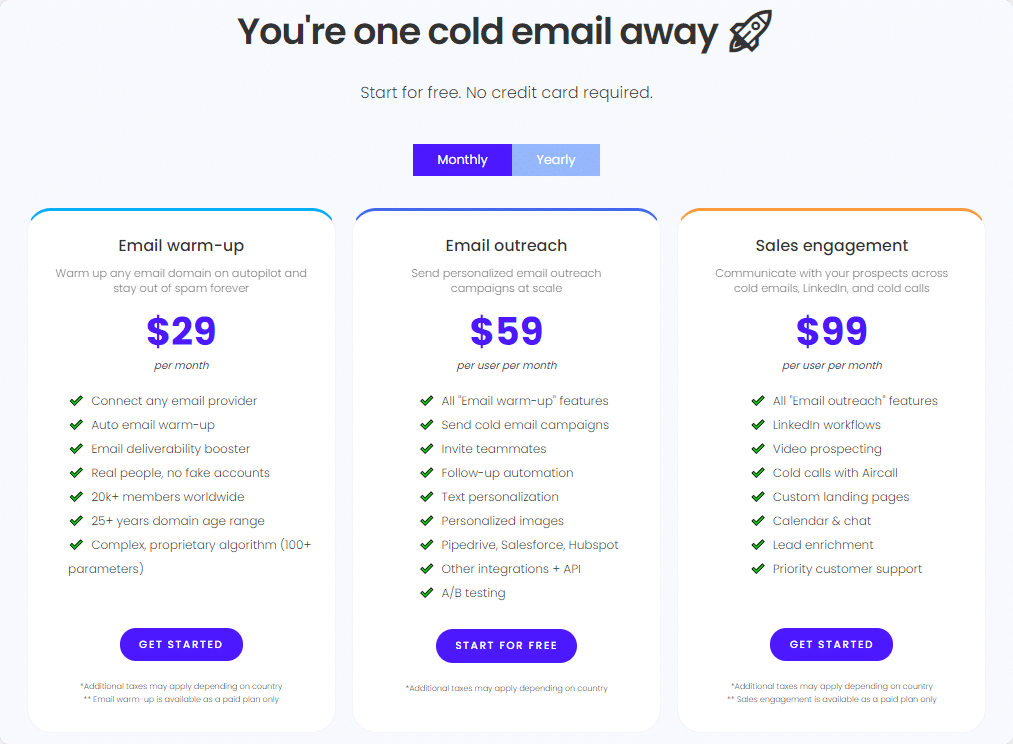 If you decide to invest in Lemlist, here are the following options you can choose from:
Email Warm-up
Monthly payment:

$29/ per month

Annual payment:

$25/ per month

Features:

Automated customized cold emails to all Lemlist users. The customization ensures that the email is relevant to the receiver and decreases the email's chances of ending up in spam.
Email Outreach
Monthly payment:

$59/ per user per month

Annual payment:

$50/ per user per month

Features:

This allows you to run large-scale personalized cold email campaigns and offers all features mentioned in the "Email Warm-up."
Sales Engagement
Monthly payment:

$99/ per user per month

Annual payment:

$83/ per user per month

Features:

Helps you to run successful sales campaigns through cold emails, cold calls, and an integrated LinkedIn workflow. It also offers all features mentioned in "Email Outreach."
The price of the services offered by Lemlist shows how they are willing to cater to any business, from small-scale businesses to large corporations. If you are a small-scale business looking to increase your customer base, the "Email Warm-up" option is the best option for you.
However, if you are running a large corporation, you should look into the "Sales Engagement" option, as that will help you in optimizing your next sales campaign.
G2 Score
Lemlist has a 4.5-star rating on G2.com, from 85 reviews. The Lemlist User Rating breakdown is like this:
Ease of Use: 8.9

Quality of Support: 8.7

Ease of Setup: 9.9

Ease of Admin:9.5

Quality of Support: 6.7

Ease of Doing Business With: 9.5
Let's see what some people at G2 have to say about Lemlist.
Positive Lemlist Review
"Top of the List Email Marketing Solution"
"Lemlist helped me to send cold emails and generate leads."
"Best cheap alternative to HubSpot"
Negative Lemlist Review
"Terrible Customer Service, Extremely Unprofessional"
"Buggy software, poor UI, worse customer support"
"Awful customer service, clunky UI."
Capterra Score
The star rating for Lemlist on Capterra is 4.6 from 326 user reviews. The reviews breakdown is as follows:
Overall: 4.6

Ease of Use: 4.5

Customer Service: 4.7

Features: 4.0

Value for Money: 4.0
Here's what Capterra had to say about Lemlist.
Positive Lemlist Review
"Lemlist is a super powerful SAAS application which can skyrocket our overall cold emailing and outreach."
"Fantastic outreach tool with the power of personalized images"
"Perfect tool to make a personalized drip campaign that is sent from your email address"
Negative Lemlist Review
"Decent product, horrible customer service"
"Poor customer service, UI clunky and unintuitive"
"The fee for their basic version is now $49/person, not $29. Poor customer service – However, I've had several experiences with customer service that was not ideal."
Alternatives to Lemlist
It would be wrong to say that Lemlist is the only software with such features. Alternatives to Lemlist offer more or less the same features at different price points. 
But why should one know about these options? Simple! One needs to know about the other options to make the best decision. Here are some good alternatives to Lemlist
Reply: A sales engagement platform that automates sales conversation at every level of the sales process.
Mixmax:

An email tracking and marketing tool used to monitor the performance of an email marketing campaign.

Outreach:

A user-friendly sales automation software.

Yesware:

Another email tracking tool with a CRM integration to the top CRM software such as Salesforce.

Salesloft: One of the leading sales engagement platforms to help you develop the best sales strategy.
Apollo.io:

A database that helps entrepreneurs and business teams analyse and improve their growth-based strategies.

ActiveCampaign:

Marketing automation software aimed at small to mid-sized businesses.

Zoho CRM:

A CRM software that brings sales, marketing, and customer support activity under one roof.
In Summary
Is Lemlist worth the hype? The answer to this question depends on you.
Most of the praise surrounding Lemlist revolves around how the software allows its users to send customized cold emails in bulk with the help of automation. The software also allows its users to create effective email marketing and sales campaigns in no time.
However, the downside of the software is its customer service. It seems to be the common theme in all of the negative reviews given to Lemlist. 
If good customer service is something that you prioritize on, then maybe Lemlist is not the best fit for you. But, if you are ready to look past this minor flaw, Lemlist seems to be one of the best cold email outreach software available in the market today.
Scrape LinkedIn Sales Navigator
Scrape & personalize cold emails without the hard work