Sales engagement platforms, commonly referred to as SEPs, are powerful tools designed to help your sales team achieve success. The best SEPs will integrate with your existing CRM and communication tools, allowing you to automate several of the more tedious tasks that take up valuable selling time.
These powerful automation and integration tools help to streamline the sales process, enabling your team to spend more of their time with customers. Sales engagement platforms can significantly help with lead generation, prospecting, and closing deals. 
As a sales leader, you'll have access to a robust set of analytics, providing you with valuable insight into the performance and productivity of your staff.
How to Choose Your Sales Engagement Platform
Sales engagement platforms are designed to help your sales team reach its goals faster. With so many options available, it can be challenging to decide which platform is right for you. To help you make your decision, we've created a list of the top 5 SEPs to consider based on the following criteria:
Innovation. To stay ahead of your competition, you want your sales team to use the most cutting-edge software available. The sales engagement platform you choose should demonstrate a commitment to launching innovative updates with new and exciting features for their customers.
Uniqueness. With so many SEPs available on the market, our top 5 needed to include unique and valuable features that set them apart from their competition.
Ease of use. Sales engagement platforms should be easy to use, with a simple, intuitive interface for salespeople of all experience levels. They should also integrate seamlessly with existing sales and customer interaction tools to ensure that they improve workflow.
Our Top 5 Sales Engagement Platforms
Here are the top five sales engagement platforms you need to consider in 2022.
Considered the fastest-growing and largest SEP available, Outreach excels in streamlining lead generation, customer relationship management, and campaign management. 
The platform helps to track customer touchpoints throughout the sales cycle. Using automation tools, sales reps can map out email sequences, schedule phone calls, and use various effective email templates to improve workflow and increase sales.
Established Player
Outreach was established in 2014 and has since been a long-time leader in the SaaS sales engagement platform space. They've been listed on Forbes 100 best cloud companies every year since 2018 and are backed by Salesforce as well. They are the trusted SEP for 19 of the 25 fastest-growing public software companies, including Zoom, Microsoft, and DocuSign.
Constantly Innovating
Manny Medina, CEO, stated that innovation is at the heart of the Outreach.io mission. He said this as he accepted the Tech Impact innovation award from Seattle Business Magazine in 2017. In their fierce commitment to innovation, Outreach continues to acquire new companies to create an even more robust offering to their customers.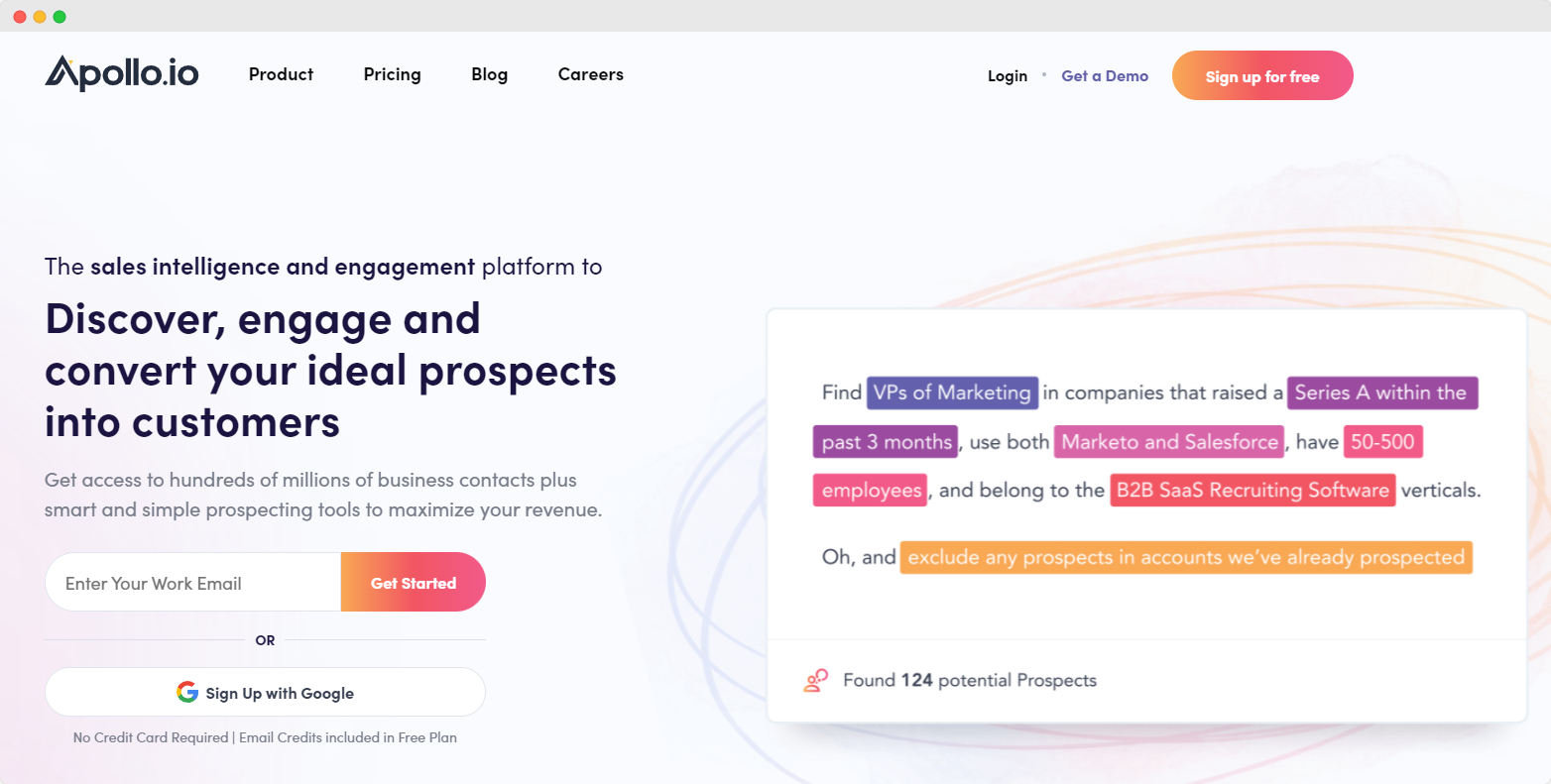 Apollo is a data-first sales platform that integrates with your existing tech stack to make it even more powerful. Sales teams can leverage precise targeting and filtering capabilities with data-based prospecting to develop the perfect list of companies and prospects. The extensive prospecting tools make outreach more efficient and effective, improving results.
Phenomenal Value
Based on their competition and robust offerings, Apollo offers some of the most attractive pricing plans in the space. There is even a Free option for users looking to experiment with the tool without ever needing to make a full commitment.
Rich in Prospecting Tools and Data
Apollo's Chrome Extension gives sales teams the ability to not only scrape LinkedIn but any company website on the internet for verified email addresses and contact information. 
This machine learning platform studies activity patterns and can intelligently suggest leads to pursue using effective hyper-targeted segmentation to improve open and response rates. Sales teams can even split tests their outreach efforts and make necessary changes to their messaging based on a broad set of analytics.
All-in-One Solution
Apollo is a powerful and affordable all-in-one solution. This data-driven platform offers:
Precise targeting capabilities;

Email and calling automation;

Data-backed analytics tools for more effective prospecting;

CRM enrichment tools.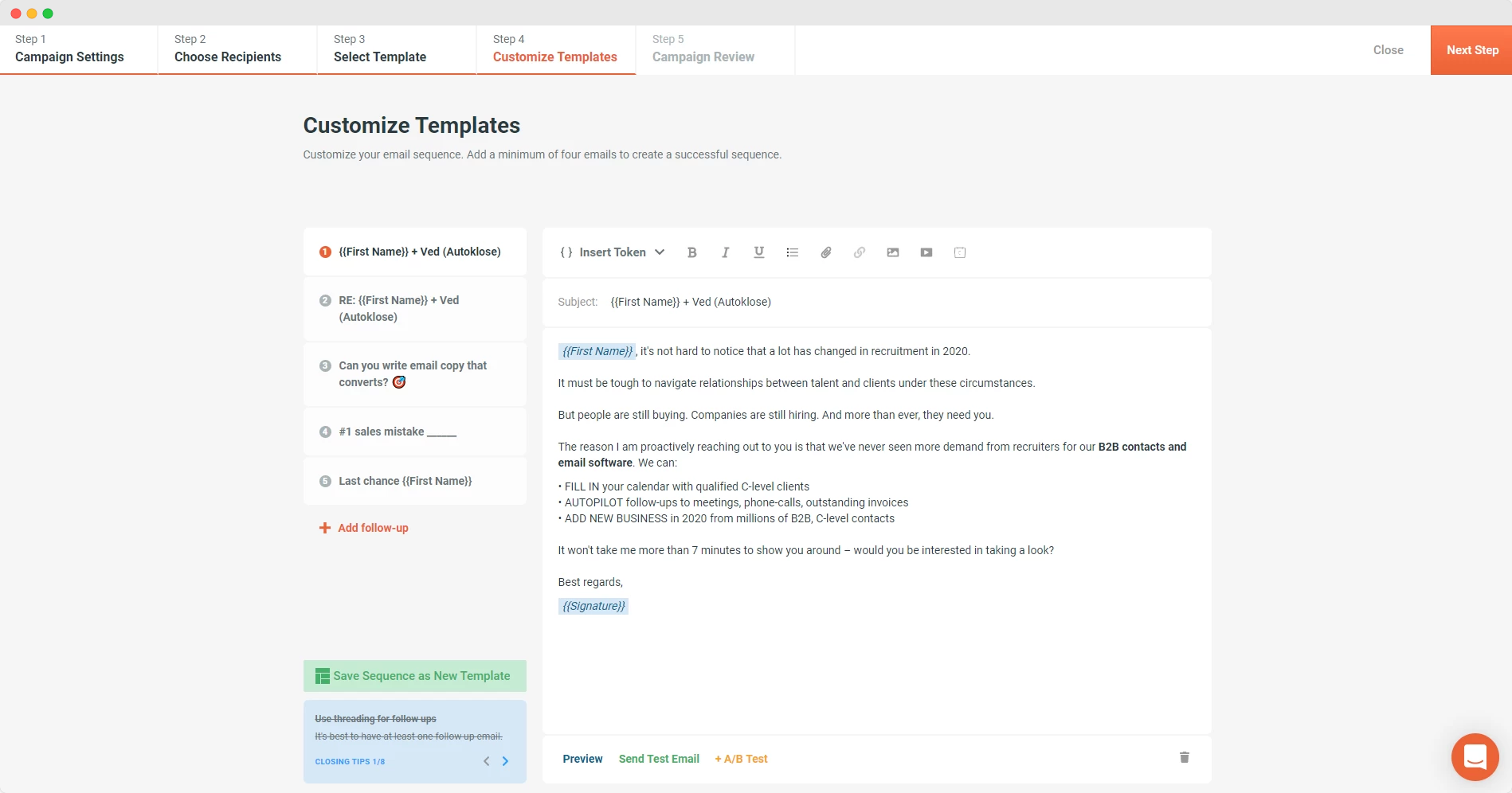 Autoklose is an all-in-one sales engagement platform and verified B2B database all in one. It is trusted by prominent market leaders, including IBM, VMware, and PayPal. The integrated outreach tools and massive database make it easier for sales teams to scale their prospecting efforts and close deals much faster.
Rich in Features
Autoklose integrates a comprehensive set of features and tools to make the sales team's lives easier. Sales reps can quickly find potential customers through the outreach platform, improve their messaging with the email-automation tool, and better manage their email campaigns using highly targeted email sequences. 
The comprehensive dashboard gives sales leaders the ability to monitor the performance of their teams, both at a high level and an individual level.
Helpful Tools to Make Life Easier
In addition to the rich set of features, there are also built-in tools to help sales professionals work more effectively. These tools include but are not limited to built-in email verification, spam checkers, email volume throttling, and message writing assistance.
Affordable Pricing
Autoklose is affordable and trusted by sales teams of all sizes. Sales reps can get started right away with a $59.99 monthly plan, which includes unlimited contact uploads, campaign creation, tracking, and follow-ups. For those looking to test the tool, no credit card is required for the 14-day trial.
Woodpecker is an intuitive cold email tool that facilitates client outreach and business partner relationship nurturing for B2B companies. Email campaign sequences can be tailored to the recipients' responses and behavior, using basic script templates and elements of personalization. 
Email Deliverability
Woodpecker uses a unique algorithm that ensures maximum deliverability to the intended prospect's primary inbox. Email addresses are verified in real-time, reducing bouncebacks.
Advanced Campaign Features
Woodpecker's software learns from past email sends and can intelligently suggest the correct recipients to pitch by understanding which companies are most likely to respond. Sales professionals can create an outreach campaign in just a few minutes, customizing it with their own messaging and integrations along the way.
Great Agency Features
Woodpecker provides a number of lead generation agency features, including one-click logins to each of your different client accounts and an easy-to-use client dashboard. Woodpecker's email management and sequence capabilities make it possible to manage various email campaigns for several different agency clients at once, with ease.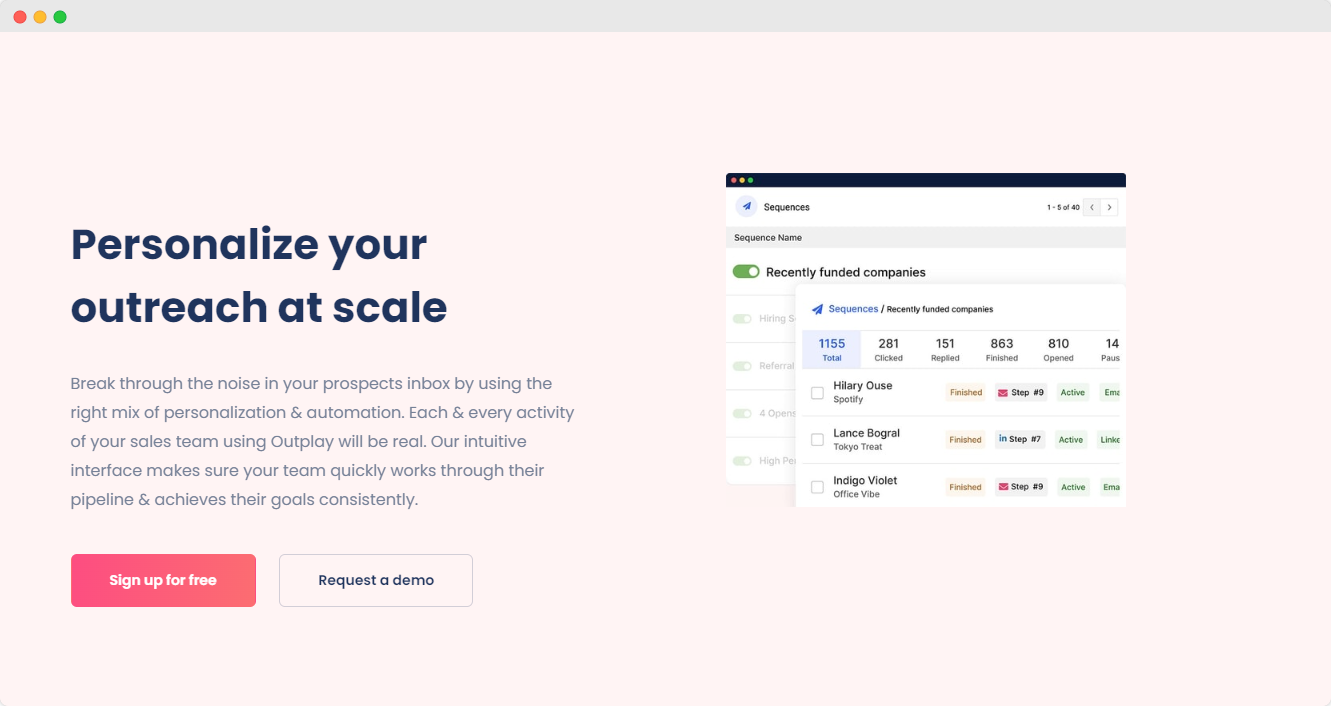 Outplayhq is a sales engagement platform that enables multi-channel sales engagement across various platforms, including LinkedIn, chat, SMS, Email, Phone, and even Twitter. Using smart sales sequences, the sales team can constantly stay connected with their leads, improving their ability to book meetings and increase sales. This best-in-class platform has won awards for Best Support, Easiest to do Business With and High Performer in the Small and Mid-Market business sectors.
Advanced Personalization Options for Email Campaigns
With a mix of automation and personalization, sales reps can customize email templates with customer information to increase their likelihood of engagement. The platform also sends customizable follow-ups that are triggered by the prospect's behavior, giving sales teams an edge when it comes to reaching leads at scale.
Magic Outbound Chat
Sales teams will receive an instant notification the moment one of their outbound sequence prospects lands on your company website. Sales reps can then engage the prospect via a real-time chat while the prospect is the most interested.
Advanced-Data & Insights Into Campaigns
Sales reps can make informed business decisions based on the real-time data of each of their outbound campaigns. The reporting and analytics provide clear insight into what moves the sales needle forward and the recommended next steps to drive revenue growth.
Bonus: Salesgear
Salesgear is a multi-channel sales engagement platform that helps SDRs engage prospects via email, LinkedIn and phone calls. Sales teams can create highly personalized playbooks and execute them without having to leave the Salesgear platform. With strong integrations across CRM solutions and also with Gmail, Outlook and Slack, Salesgear lives where your team lives.
AI based Writing Assistant
The Salesgear Writing Assistant helps users create compelling email content and subject lines. It helps create multiple versions of the copy automatically, which can then be used in A/B testing
campaigns to arrive at the best working content.
The biggest challenge for outbound campaigns is scale. With multiple inboxes, your outbound email campaigns can be scaled exponentially. With auto, smart assignment of inboxes, sequences are executed at great speed without impacting the email deliverability and domain reputation.
Email deliverability
Even when you create the greatest content, it matters only if the email gets delivered to the inbox. When you send 100 emails and only 25 land in the inbox, you lose 75% of the business right there. Salesgear's algorithms ensure that you get more than 90% emails delivered to your prospects' inboxes.
Best Sales Engagement Platforms: the Conclusion
Sales engagement platforms are becoming an integral part of sales teams' ongoing success. With so many options to choose from, it's important to consider the features and functionality that will be most helpful for your own business needs. When evaluating each platform, focus on what makes them unique and how they can help improve your team's ability to drive revenue growth.
Scrape LinkedIn Sales Navigator
Scrape & personalize cold emails without the hard work