There's a major contradiction at the heart of email-based lead generation. Firstly, it has been clearly shown that properly personalized emails attract more engagement than generic ones.  Campaign Monitor found that emails with personalization were 26% more likely to be opened and credit agency Experian experienced a sixfold increase in transactional rates when they used efficient personalization.
However, to make email campaigns worthwhile, they need to work at scale.  This leaves salespeople in a quandary: how can they generate a high volume of emails which nevertheless retain a degree of personalization that attracts potential clients.
This is where AI can be hugely helpful.  There are now a host of AI-based email apps on the market that scrape client data for key information then automatically integrate this into email intros.  In this way, AI becomes a key sales tool, making it possible to operate at scale while letting your targets know that you are treating them as individuals.
In this article we'll run down seven of the top AI-driven email tools for salespeople, highlighting the benefits of each, so you can decide which might be helpful for your sales team.
Let's begin with our own tool.  Lyne helps sales professionals create thousands of hyper-personalized intros per hour.  We've seen response rates improve up to tenfold using our AI-powered tool, with an anticipated baseline improvement of around 20%.
One of the key timesaving aspects of Lyne is that it personalizes and matches your subject header to intro content.  This is a vital ingredient in encouraging a busy potential client to open your emails, rather than dragging or right-clicking them into oblivion.  Lyne.ai will also remove the unnecessary ingredients from company names, such as LLC or Inc., making your content feel more human.
‍
Simply upload a CSV file of your targets and our AI tool will get to work scouring company news and blog content, case studies and social media mentions to find ingredients it can use in your AI email intro text.  It will generate authentic copy which recipients respond to positively.
Scrape LinkedIn Sales Navigator
Scrape & personalize cold emails without the hard work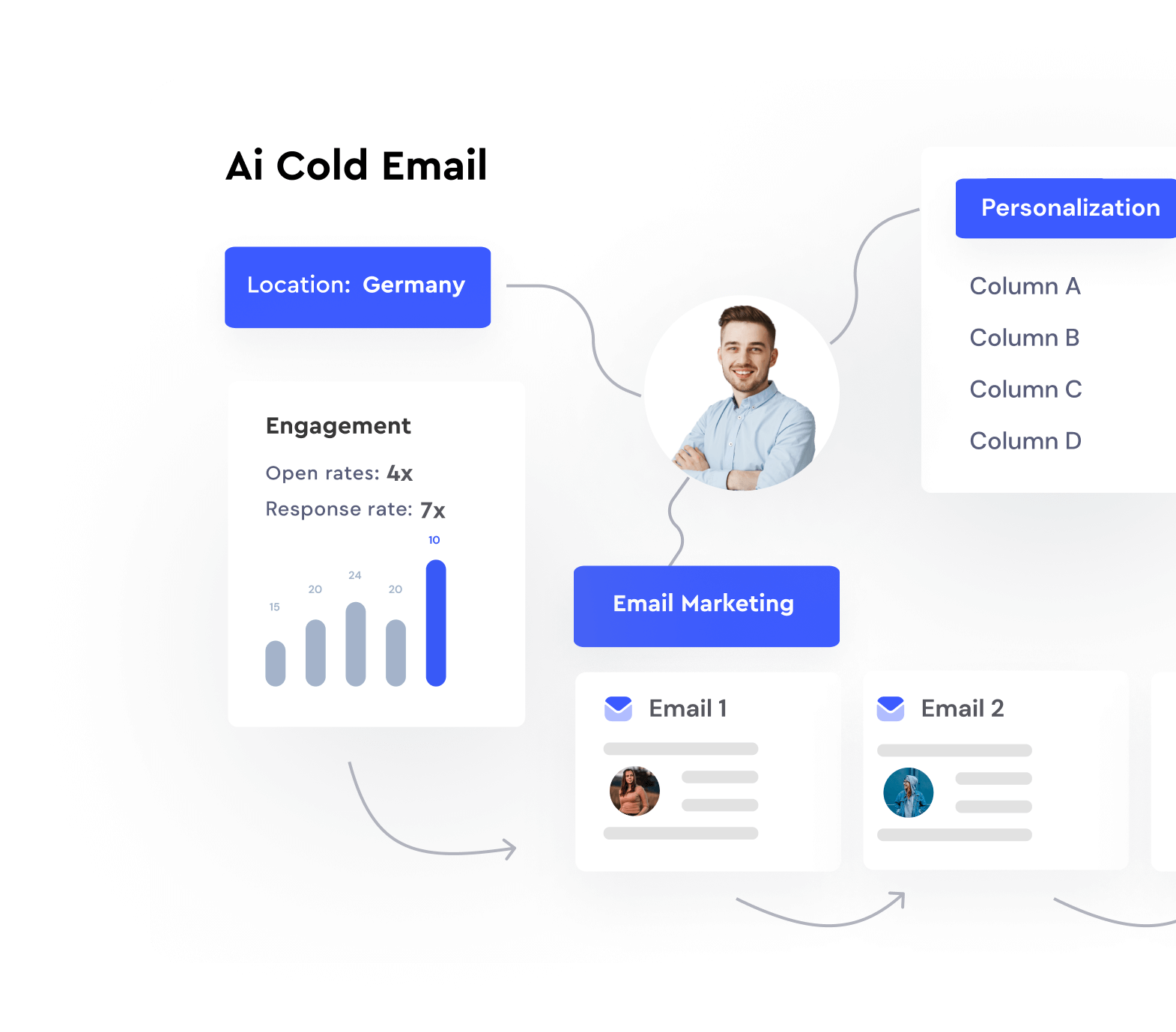 ‍
Alternative Cold Email Tools
Superhuman is big on speed – they actively boast that no operation should take longer than 100 milliseconds to execute.  What they excel at in particular is inbox management – sorting the wheat from the chaff.  Their AI-powered triage system flags the vital stuff, so you don't miss anything essential.
‍
Key features include built-in read receipts, timed delivery, scheduled reminders, a snooze feature, and undo send that actually works.  Superhuman will increase your productivity by helping you keep on top of your email stack.  You'll be getting back to clients promptly, and this should translate to an increase in conversions.
When it comes to AI email tools Superhuman is probably amongst the bigger names in the industry, and they do seem to live up to that name.
Growbots is a leading sales automation application, which boasts that it can reduce your email sales prospecting to 15-30 minutes a day.  It's particularly good for analyzing the response rate your email campaigns produce, allowing you to tweak and change your approach.
‍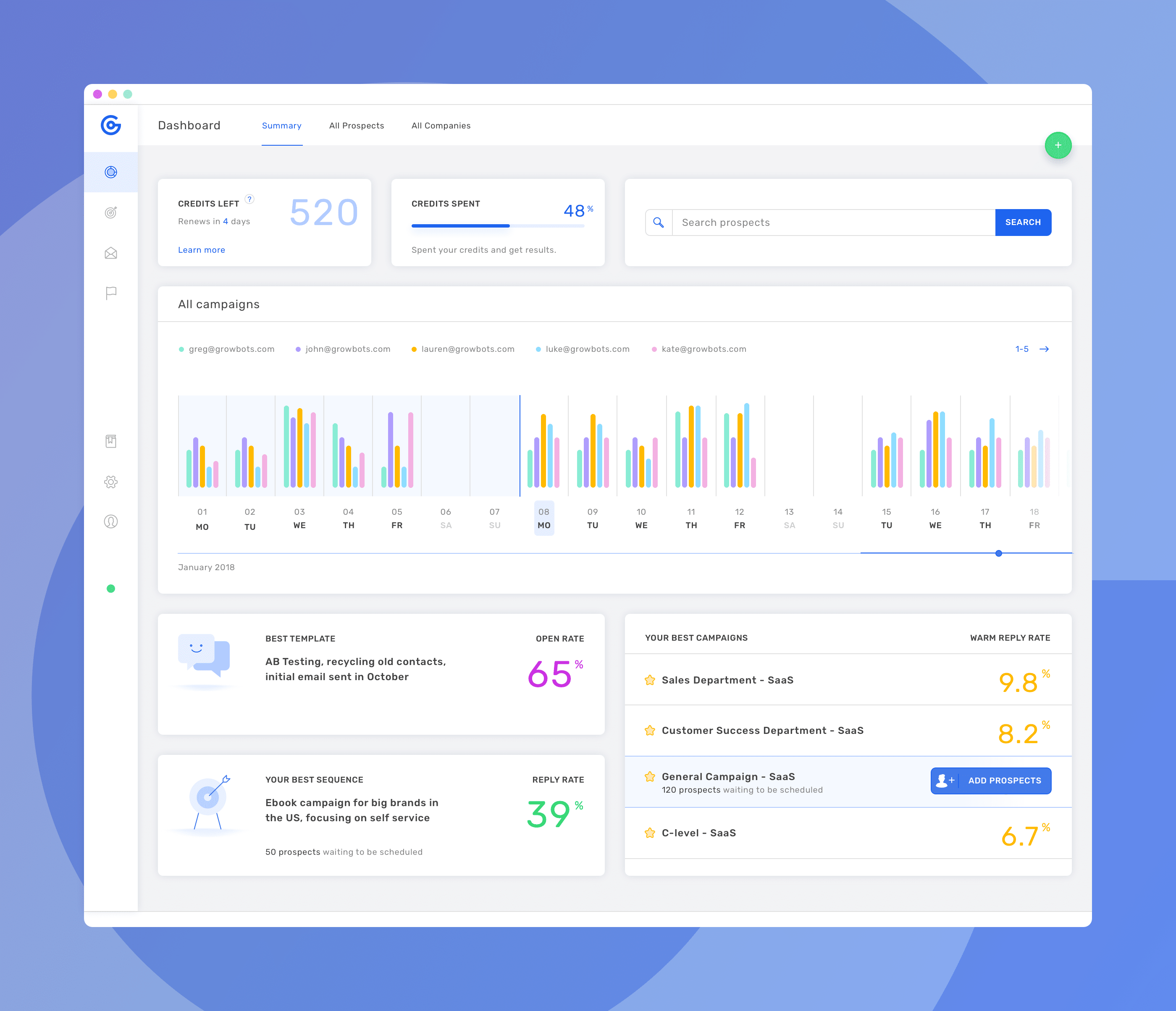 The company also has a proprietorial database of more than 100 million business contacts, giving you a great starting point for a campaign.  You won't have to spend weeks and weeks in early stages lead prospecting.
When it comes to AI email tools, Growbots is definitely the most complete option offering a great all-in-one solution.
Behavioral prediction is at the heart of Appier's suite of AI and machine learning infused applications.  It's a great tool for finding out how well your email campaigns are performing.
‍
Appier will analyze and segment your database of potential leads to identify which are committed, which are hesitant, and which have no real intention to buy.  This will help you target each group with appropriate content and offers.
‍
Like Growbots, Appier claims to analyze your response rates and help you improve your conversion rate, right down the sales funnel.
Out of date email lists are a significant impediment to your chances of success.  Bouncer's key feature is AI email verification and validation, giving you a good idea of the likely "bounce rate" of your campaign.  
‍
Bouncing can occur for several reasons, such as when overactive spam filters or antifraud measures reject your content by mistake.  This can be down to something as straightforward as a poorly worded subject header.  It can also be due to out-of-date or mistyped email addresses.
‍
Bouncer wants to help you solve that problem.  Their "Bounce Estimate" algorithm will sample your lead database and return an estimate of your likely bounce rate, saving you both time and money.
Formerly Hatchback, Benchmark One is a lead scoring and segmenting tool which includes email interaction.  It helps you automate email drip campaigns as well as alerting salespeople to lead behavior which may indicate readiness for a purchase.
‍
It's not specifically an AI email tool, but an all-in-one CRM platform.  Among its uses, Benchmark One will help you integrate your email campaigns more effectively, using information it obtains from the visitors to your sales portals.
‍
If you want to zero-in on email specifically, a targeted tool like Lyne.ai might prove more appropriate.
Kickbox's big boast is to have validated over 5 billion emails.  They also claim that 99% of their AI emails get through to the intended target.  Those are respectable figures.
‍
Kickbox will take CSV or XLX files of leads and will validate email addresses in real time, to help you clean your list and keep it current.  It's a very specific, targeted tool with a host of integrations, but produces somewhat inscrutable code-based results.
Conclusion: AI email tools are here to stay
AI and email are a perfect match, especially for sales professionals.  They can save you both time and money, whilst giving you a competitive advantage over rivals who don't apply AI techniques to their prospecting.
‍
We've designed Lyne as a laser-targeted tool to make sure your emails cut through the clutter of busy professionals inboxes.  It's straightforward to use and designed for simplicity.
‍
Here are some of its advantages:
‍
It's Faster – generating 2500+ effective emails an hour.

It's Cheaper – on average 68% cheaper than our competitors at just $0.15 per intro line.

It's Accurate – no more emails bouncing back from mistyped or dead email accounts.

It's Persuasive – We predict a 40:1 ratio of email to demo requests.
Why not try Lyne.ai today and see for yourself the difference AI can make to your prospecting or even help automate your lead generation agency.
Scrape LinkedIn Sales Navigator
Scrape & personalize cold emails without the hard work