Reply.io Review: Everything You Need to Know
Read our Reply.io review and see what other professionals have to say, learn about pricing, popular features, and discover all current integrations. Not sure if Reply.io is the right fit for you? Read our other sales tools reviews.
All kinds of sales and marketing staff share one problem: messaging. This problem can come in multiple forms: sales leads reaching out to see what a product has to offer, email, and responses to social media ads. In our technologically advanced, always-connected world, the pressure to respond to inquiries promptly is ever present.
Even worse, a constant inflow and outflow of messages can seem overwhelming. It's a well-known fact that a lot of professionals spend a large amount of time every day dealing with messages. And of course, people want to hear back at the earliest opportunity.
Fortunately, technology is beginning to catch up with the constant messaging problem. Auto-responders, for instance, are a common way to deal with a vacation. Email automations also send messages when triggered by certain events, and chatbots assist with simple customer service tasks.
With that said, the simple solutions don't work well in all situations. Some uses of messaging require a greater combination of sending and receiving messages. Or, the constant messaging becomes so time consuming that it's hard to do anything else. For that reason, there are tools like Reply. We hope that this Reply.io review will help you understand what the tool is, and whether or not it is useful for your business.
Reply.io Review – Main value proposition
Reply is, simply put, a messaging automation tool. Here, messaging means a lot more than email. Rather, Reply helps sales and marketing professionals communicate with customers and sales leads just about anywhere that messaging happens. Both inbound and outbound messaging, including chatbots or automatic messengers. In addition, messaging can encompass both manual and automated messaging. As this Reply review will point out, the app is very versatile within the messaging space.
Who can benefit from Reply?
Although messaging and emails are a problem for busy management employees, Reply isn't the tool for them. Reply is designed to help sales and marketing professionals reach out, and reply to, sales leads. Due to its social media and SMS capabilities, Reply is something that both B2B and B2C companies can benefit from. In B2B sales, email and lead generation aspects of this tool are more valuable. For B2C brands, social media and SMS are likely to be more efficient. 
At the end of the day, Reply addresses two pain points for marketers. First, there's the massive amount of time needed to reply to inquiries from customers, followers, and sales leads. Second, messaging on social media and by email is very labor intensive. Schedulers help with social media posts, but they don't typically handle replying to people's comments that well. Reply, on the other hand, facilitates two way communication in a manner that's very efficient.
Reply.io Review – Main features
One of the great things about Reply is that it has a lot of features. And, for business users, everyone gets the same features. This frees us from needing to include service differences in this Reply review. As already mentioned, Reply facilitates communication between businesses and sales prospects. They break the features of this tool into four groups, called Discover, Execute, Engage, and Improve.
Discover
Under the "discover" category, Reply puts features that help you find the email addresses and other contact information for potential sales leads. Then, users can follow up on these leads with other Reply features and the Chrome extension.
Email search: Leverages LinkedIn premium products to find emails.

Web crawl for emails and phone numbers: Looks everywhere, so you don't have to, individually or in bulk. Extracts this information.

Automatically adds contact info to Reply tasks.

Validates phone numbers and email addresses to reduce duplicates and outdated information

Email warm up: prevents spam sanctions by making sure your contacts are ready for live emails.
Engage
Once Reply has zeroed in on the contact information you need, it's time to engage with potential customers. It's here that Reply's multichannel capabilities become more evident and highly valuable.
Multichannel sequences: Reach out to contacts from multiple channels. Options include LinkedIn, email, social media messaging, Zapier collaborations, branded links, customized replies, video, A/B testing, and calendar integrations. Reach your contacts wherever they are.

Cloud calls: Call anyone through their powerful browser extension or direct from the Reply account. Dialer, local number, caller ID, incoming call transfer, and international calling. 

Instant messaging: Talk to people via WhatsApp and SMS. Reach people on other channels through Zapier and upcoming integrations.
Execute
Next, there's the "execute" segment of Reply's features. These help you go the next mile and convert your sales prospects into actual customers.
Add videos to email: Introduce yourself with a Vidyard-generated personalized email. Appointments can be booked through that email, and a notice sent to you when a prospect replies.
LinkedIn automation: Connection requests, messaging, InMail. Messages are personalized.

Appointment booking: Link Reply to Google Calendar, and give direct access for appointment scheduling.

AI email assistant: automatically send "human like" emails to prospects. Emails are optimized for maximum response.

Tasks flow: Gives individualized "to do" list and helps sales staff execute them. These include manual and semi-automated tasks. Keep track of progress.

Contact management: Helps keep contacts current, segments them by category, filters, track past activity.

Collaboration: Helps teams work better together by keeping track of everything in one place. 
Improve
Finally, there's the "improve" family of Reply features. These help to keep track of results and improve further campaigns.
Analytics: Track the results of your efforts. Record calls and review for quality assurance.

Suggestions for improvement: What works, what doesn't, helps hone strategies for next time.
Reply.io Review – Integrations
Reply has some integrations available to make the job of sales easier. Most notable are Salesforce, HubSpot, Copper CRM, Pipedrive, Close.com, and Zendesk Sell. Email providers such as Gmail and Outlook, Chrome extension, API. For messaging, there's LinkedIn, WhatsApp, and SMS. The company says that other messaging and social integrations are being developed.
For users that don't code or need more options, there is a Zapier integration, allowing over 4000 app connections. Here is how Zapier describes their capabilities.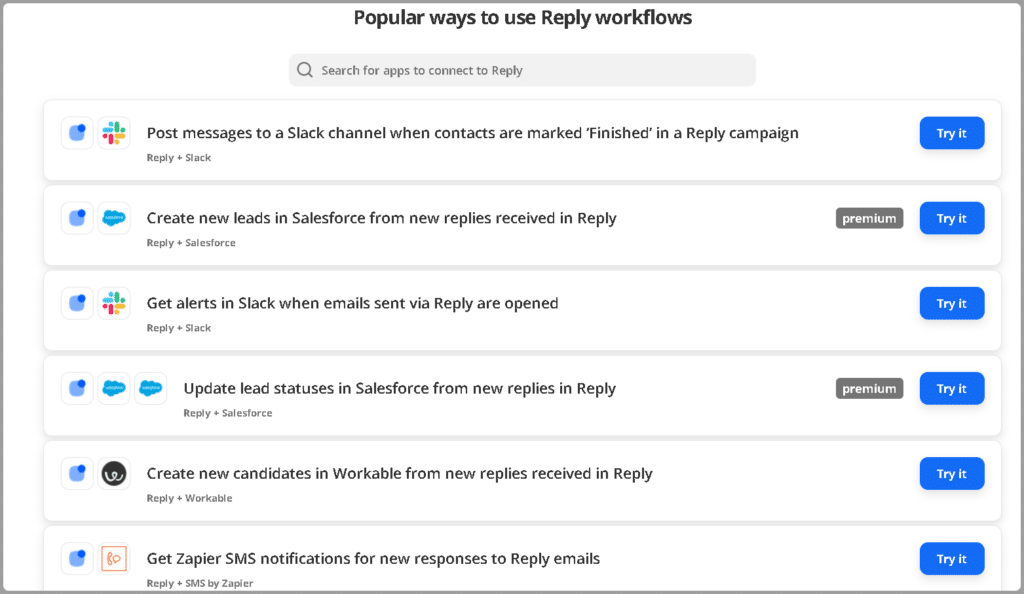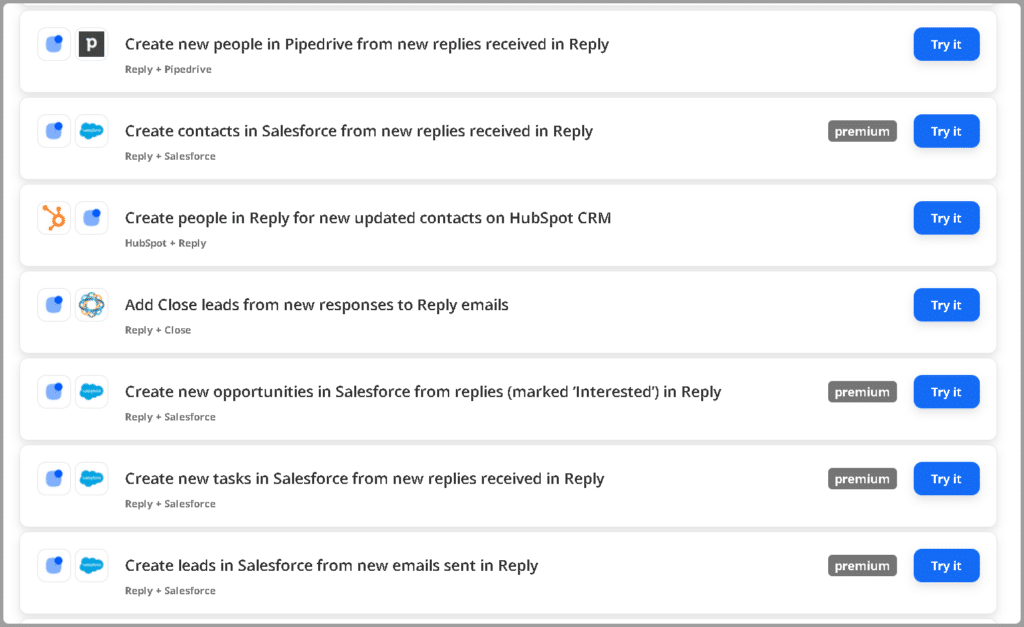 And a look at the triggered actions available: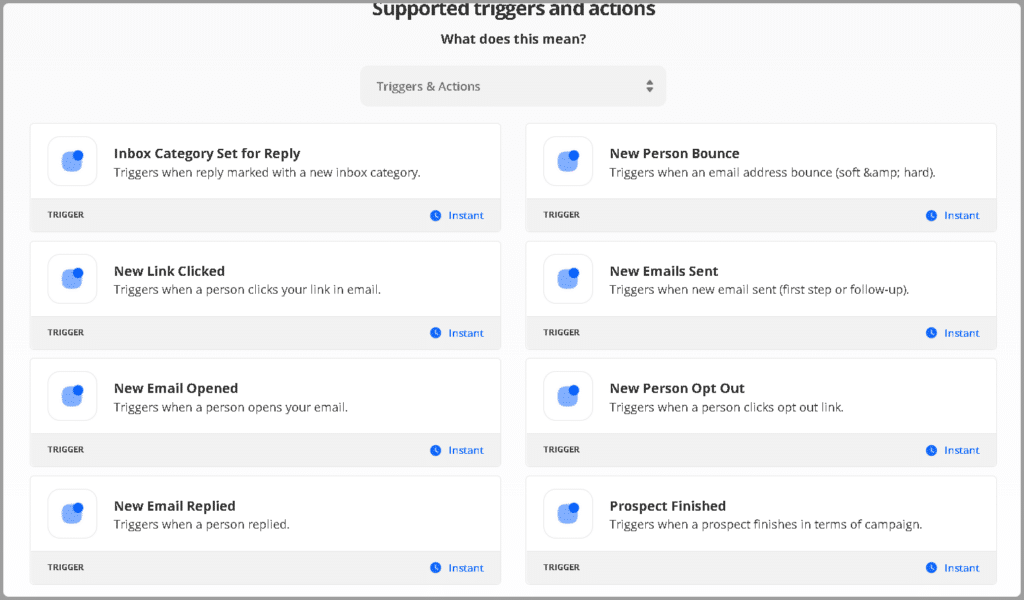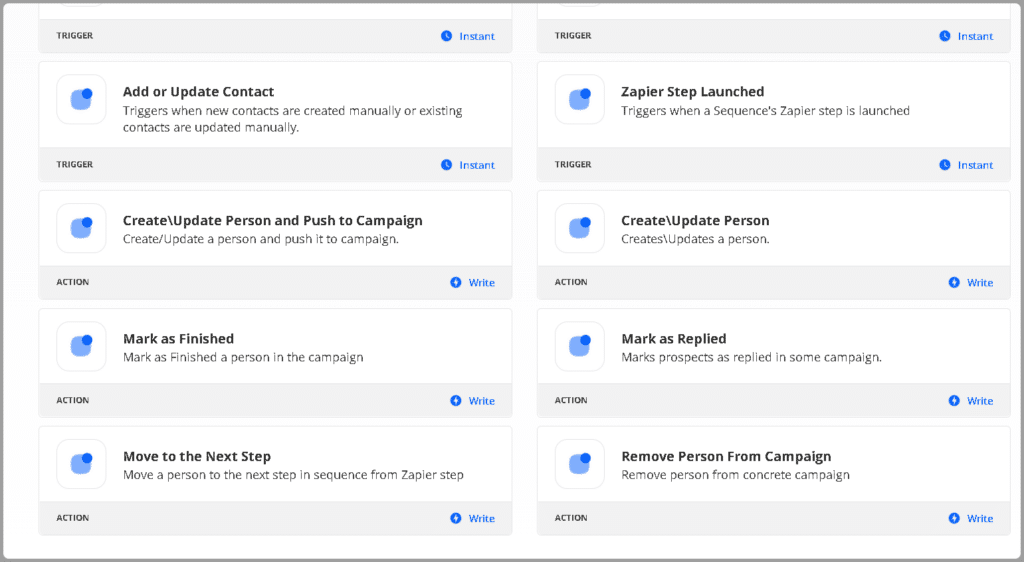 Reply.io Review – Pricing
No review would be complete without discussing Reply pricing. Reply has two basic types of payment plans: email search that combines with LinkedIn Sales Navigator, and a comprehensive sales engagement plan. Essentially, the difference is how much help you need. For email-only, Reply pricing is based on how many email searches you do each month. Comprehensive plans are per user, with rates varying based on the total number of seats you purchase.
Email search only
One of the pleasant surprises in Reply pricing is that they have the option to just buy email addresses. Everyone gets 200 email credits for free, which is enough to help even the smallest business. Subscribers can also purchase 5000 monthly credits for $49, and unlimited credits for $99 per month. However, unlimited email credits are included with annual sales engagement subscriptions.
Sales engagement
Next, there are the sales engagement plans. This Reply pricing is per seat and per month for business plans, and per seat with service level variations for individuals. Individual plans start at $70 per month and include 1000 monthly contacts; for $90, up to 2000 people; unlimited for $120.
Business sales engagement plan pricing is much simpler, as it's based only on the number of seats. For three or four seats, it's $70 each, 5-9 people at $60 each, and $50 for any larger number of seats. Finally, there's agency pricing, but this requires a call to sales.
G2 Score
On G2, Reply is rated 4.6/5, which is drawn from 779 reviews. 
Positive reviews focus on the ease of use, powerful automations, and top notch customer service: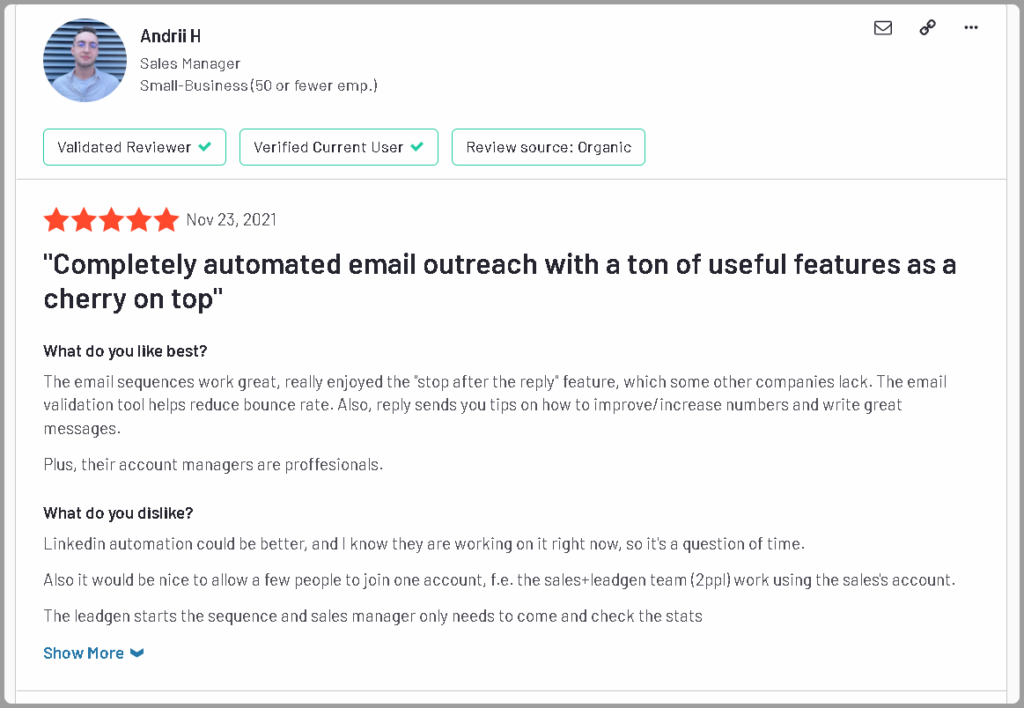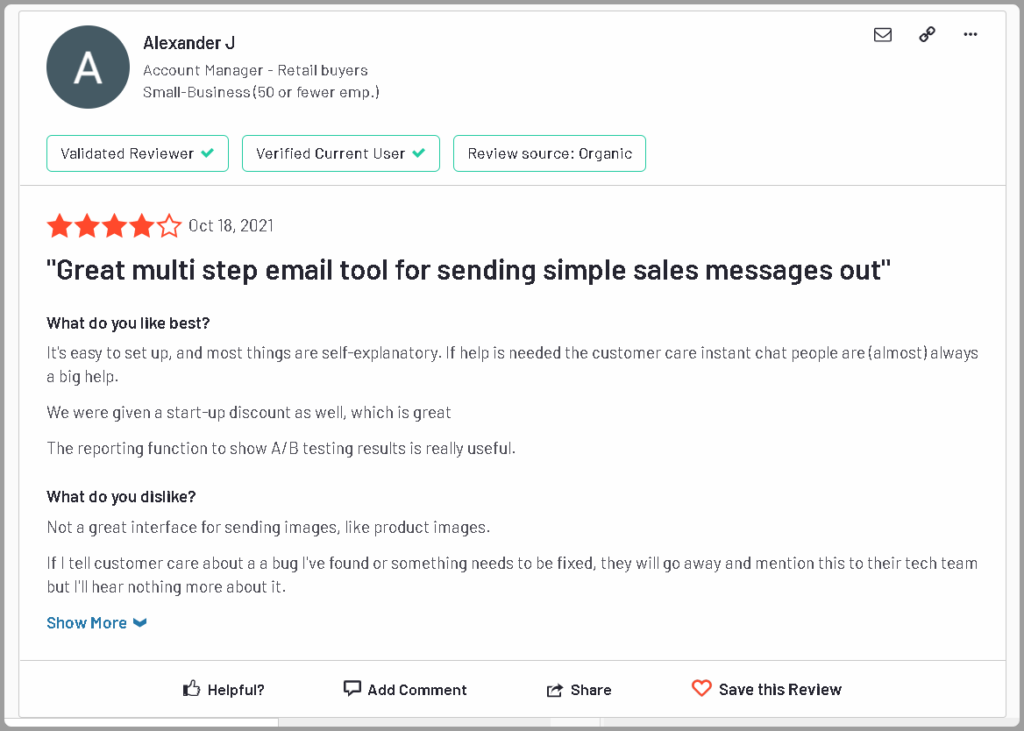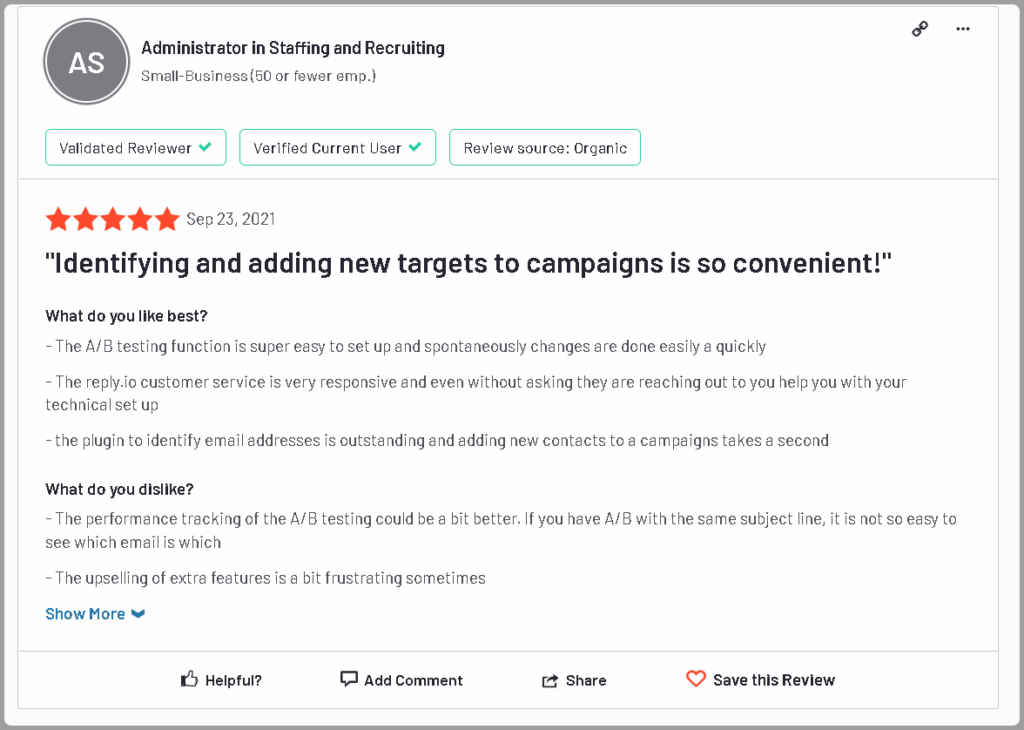 Meanwhile, negative reviews focused on the difficulty switching between Reply and an email client, Lack of pricing transparency, and reduced usefulness for large businesses.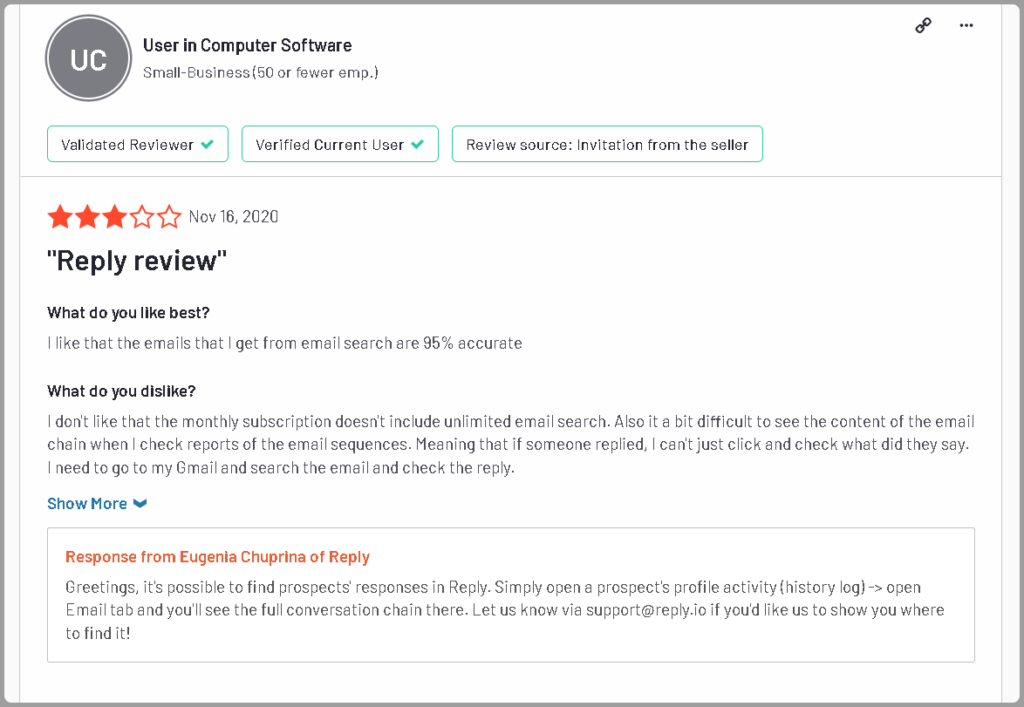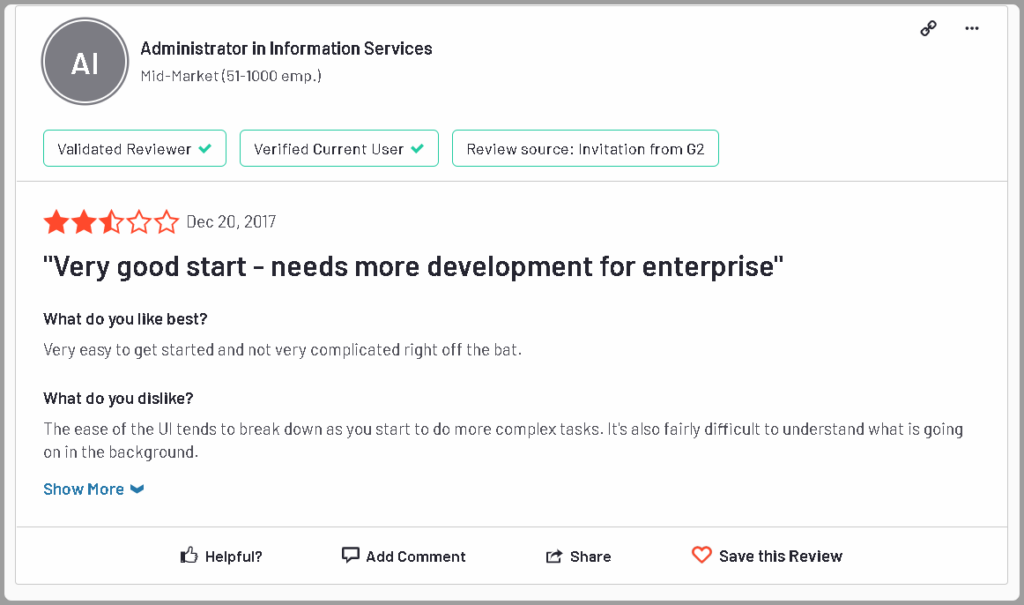 Capterra Score
On Capterra, customers rate Reply at a 4.6, including 89 reviews. Positive reviews showcase the high-quality LinkedIn prospecting, email automations, and natural-looking AI emails.
"I liked the fact that you can create different zaps for specific things to happen or when they happen, this program helps you stay on top of things and looks real to the person receiving your email."
"Handles CSV upload well, and solves a need that's important to me."
"It is easy to search and discover prospects from Linkedin using this tool. Ready templates for your outreach emails."
Negative reviews focus on difficult setup, poor CRM integrations, and bad customer service.
"It takes hours to set up and if you do not complete every step, your work is lost forever."
"Perhaps the worst support I've ever seen from a paid web service."
"CRM Integrations and reports are a bit difficult."
Reply.io Review – Main competitors
Reply is a new entrant into a relatively large field of CRMs and sales automation software. Here are some of its bigger competitors
Salesforce.

Another legacy CRM with LinkedIn and social media integrations that help you reach customers faster and better.

Salesflare.

A newer competitor that primarily focuses on email marketing and CRM tasks. Its upside is automatic updating.

Hubspot.

With Hubspot, you install individual hubs that help you keep track of potential clients and reach out in an efficient way. They have a huge number of native integrations, so Zapier is rarely necessary.
Reply.io Review – Conclusion
As we've seen in this Reply review, this tool is still a work in progress. It has promising features for prospecting on LinkedIn and using email marketing. At the same time, the Zapier integration allows for many more applications to "talk" to Reply. 
However, Reply fails to live up to its promises overall. Their website pitches the tool as a great all in one messaging service. And while that might be their plan, Reply doesn't yet live up to this standard. If you are a smaller B2B business, you can probably get significant value out of it. But as your business grows, if Reply doesn't evolve as promised then it will stop being as valuable.