Read our Smartreach.io review and see what other professionals have to say, learn about pricing, popular features, and discover all current integrations. Not sure if Smartreach.io is the right fit for you? Read our other sales tools reviews.
SmartReach.io is e-mail outreach software that syncs the prospect data from your CRM to your campaigns and gives you the ability to add prospects from Linkedin search through ProspectDaddy extension.
SmartReach.io provides automated email outreach, personalization, A/B testing of emails, account based sales workflows for spam tests, validation of lists with built-in email cleaning functionality, sync of prospects from CRM, real-time
As far as reliability goes, SmartReach.io gives you the ability to get notified in a variety of manners, and you have the ability to know if a prospect has opened the email, which further gives you a chance to sell them. The CRM integrations are a plus as well.
SmartReach.io has all the elements of a great outreach platform, and the best part is that it is easy to use. SmartReach.io is the kind of software that lets you take advantage of your existing tools without having to learn a lot of new features. It is powerful, affordable, and easy to use. If you are a marketing professional that uses a combination of email campaigns and CRM, then SmartReach.io will give you all the features you need to make your job easier.
Smartreach.io Review – Main features
SmartReach.io enables you to:
Send personalized emails and follow-ups, as if you were sending manually
SmartReach.io allows you to follow up in a number of ways. You can follow-up with a missed reminder, email, phone call, text, or social media.
You can also customize the follow-up with your prospect's industry, employer, city, etc. If you are targeting a small niche, you can create industry-specific offers. It even has preset templates that will save time and allow you to get right to business.
Reach customers in their primary inboxes, not their spam folders
Email marketing is difficult and time consuming, and there are many things that you can do to make it go smoother. With Smartreach.io you can target your leads right away. While most salespeople spend too much time fishing through their inboxes for leads, SmartReach.io automatically tracks prospects who are members of their list and reaches members through their primary inbox.
Access an incredibly powerful and yet pain-free way to interact with technology
Most salespeople were accustomed to using the phone when dealing with technical support. SmartReach.io changes all that and allows you to access everything you need in one interface.
Outline your company's goals, delegate tasks, and foster collaboration so your team can be more productive
SmartReach.io gives you the ability to plan your goals, assign tasks to team members, and build a better team to reach your goals. By tracking your sales goals with SmartReach.io, you will have a better idea of who needs to be assigned to which tasks.
Detailed Reporting — for easy and prompt decision making
One of the main benefits of using a professional CRM is the reporting features, which will give you actionable insights into your progress and sales performance. SmartReach.io gives you the ability to capture a prospect's email, as well as metrics on how many people are viewing and downloading your collateral.
Integrate with a variety of applications, making the data it captures more universally accessible
Having the ability to sync data between multiple applications is crucial for sales and marketing teams to be effective. With SmartReach.io, you can easily set up integrations for HubSpot, Salesforce, Pardot, Marketov, and more.
Smartreach.io Review – Integrations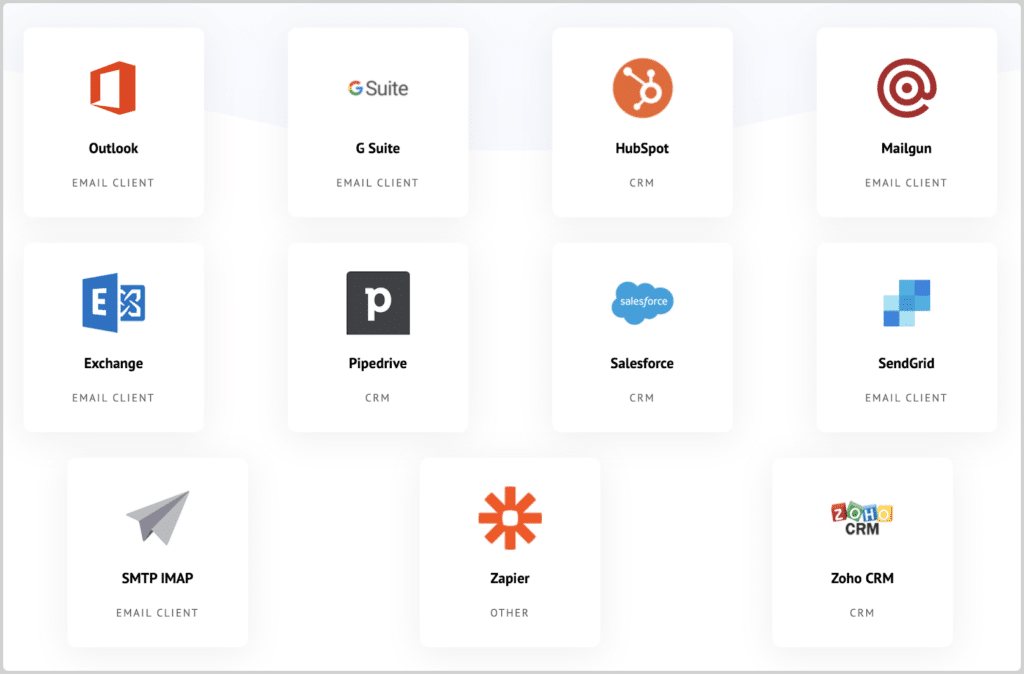 Some of the best features of SmartReach.io are the many integrations available for it. The list of integrations is extensive, and they are ideal for any salesperson or marketer that is serious about connecting their sales and marketing efforts. These integrations can help you engage your customers by setting up campaigns or to provide you with leads.
Smartreach.io Review – Pricing
Smartreach.io offers three plans: Standard, Pro, and Ultimate. All plans include unlimited campaigns and unlimited follow ups. The Standard plan, priced at $24 per user per month, features workflow automation and Zapier Integration along with all campaign perks—excluding A/B testing. The Pro plan provides clients with all campaign perks including A/B testing along with a nearly complete suite of integrations at $39 per user per month. The Ultimate plan, which costs $59 per user per month, includes all campaign perks and the full suite of integrations, along with robust client support. Free trials are available for 14 days.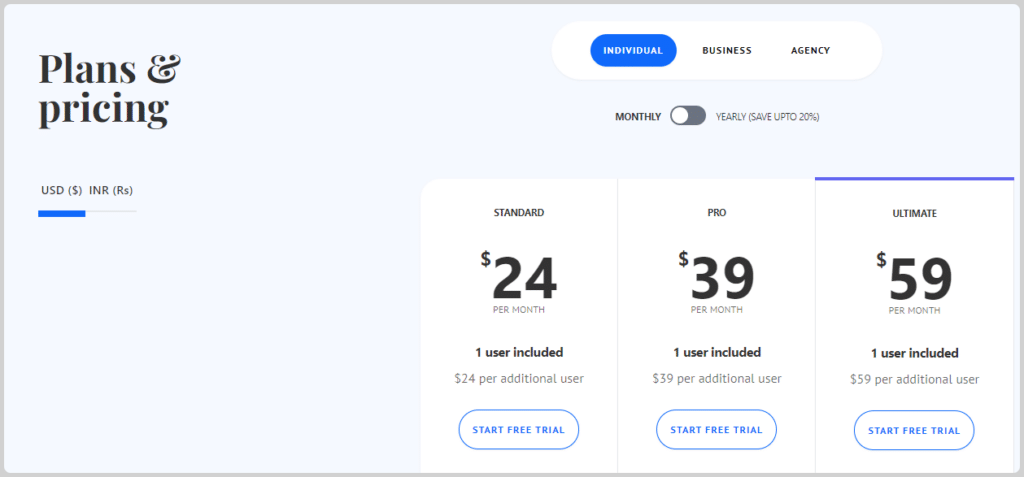 Detailed information about pricing, perks, and product links can be found on the Smartreach.io official website.
Reviews — Capterra Score | 4.7 out of 5 stars
"Our One and Only Email Campaign Manager"
Pros: Everything. SmarReach is everything we need for managing our email campaigns. Their support team is FANTASTIC. We have had many custom requests that they have immediately added into their software. They are always quick to respond.
Cons: Nothing. SmartReach does what its supposed to, and it does it very well.


"Easy to use, efficient and smart"
Pros: Support has been amazing. Intuitive compared to its competitors and is built really well for the task I needed
Cons: I can't think of any at this time – it was so much better than the previous software I used
Switched From: Mailchimp
Reasons for Switching to SmartReach.io: Mailchimp too controlling, more style than substance
"Love working with Smartreach"
Overall: One of my favorite parts about smart reach is being able to quickly and easily access their support team on a chat screen on their page. Without it, the experience would be completely different. But when learning how to use smartreach, you can do a week's worth of work in a day because of the accessibility of their support team.
Pros: Smartreach has thought through all of it's use cases and has a feature for pretty much any and all items their customer might need when it comes to an email campaign system. To put it plainly, smart reach just works. I'm glad I found it.
Cons: Nothing in particular. Their internal inbox could use some work, but that is not a deal breaker whatsoever as I have my own inbox outside of smart reach. If you can build strong email lists with strong content, this product is a no brainer.


"Great Support Team"
Pros: As another reviewer stated, we also have had custom requests that SmartReach immediately added. The SmartReach team responds quickly and addresses whatever issue we have questions about. Additionally, the software is easy to use and has useful integrations. SmartReach performs as advertised and is a good value.
Cons: SmartReach does not have every feature I could wish for, but the support team works quickly to add the ones I bring to their attention.
Reviews collected by and hosted on Capterra.com.
Alternatives and Competitors to SmartReach.io 
Main competitors include Reply, Mixmax, Outreach, Snov, Yesware, Salesloft, Klenty, and Apollo.io
Reasons for Switching to SmartReach.io: Smartreach's pricing is competitive, and the product interface is simple and pleasant to use. The workflow is easy. And while you may not have a need for extra the features, the option to purchase more functionality in the future is a plus. If you are looking for something that could automatically handle our testing and ecommerce campaigns, smartreach.io might be a good fit.
Reasons for Switching to a Competitor: The competition is great. Both MailChimp and Smartreach have free trials and are good options, but each of them can't address every need. Along with that, some customers may be disappointed with the technical support they provide or where the information comes from, so they may want to consider another solution if their needs are not addressed adequately.
Smartreach.io Review – Summary 
SmartReach.io is unique in the email marketing space. It is simple and easy to use, delivers consistently on a variety of customer needs, and is feature-rich. SmartReach is a recommended solution for SMBs, or companies who are looking for something very specific and are trying to bring their email marketing up to par with other tools in their space. That being said, the competition is fierce and some competitors might have more features or may be able to do a better job of working with you on whatever personalization or ecommerce functionality is important to you.
Scrape LinkedIn Sales Navigator
Scrape & personalize cold emails without the hard work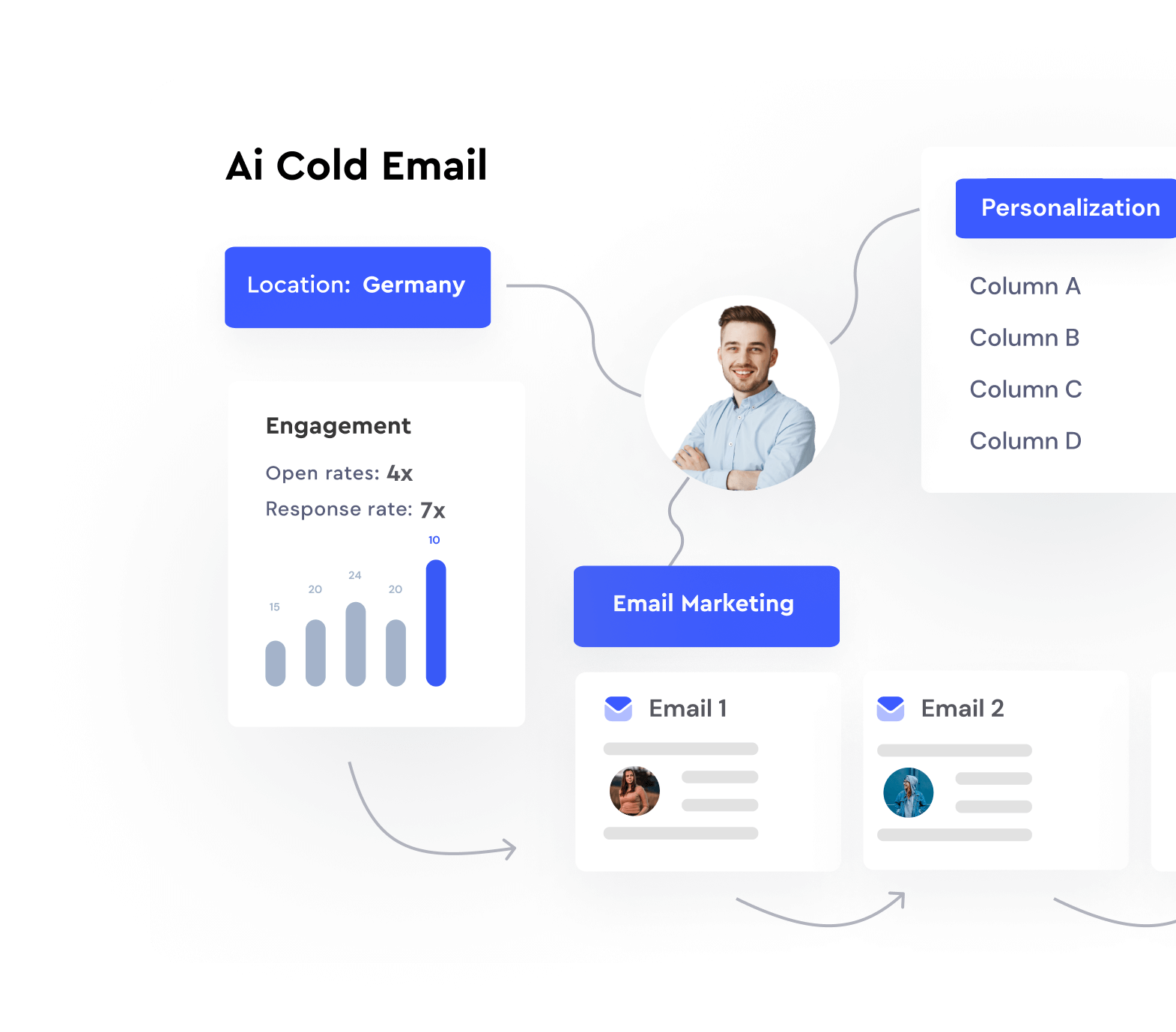 Hey, I'm Hans, Co-Founder and CEO of Lyne.ai. I used to run hundreds of campaigns for clients when I ran my own cold email agency. Having to train and manage that many virtual assistants or SDRs can get very stressful, which is why we built Lyne. Now you can write thousands of personalized first lines for cold emails in less than an hour & all without being locked into a monthly plan.