LinkedIn is one of the most powerful lead generation platforms available to businesses today and plays a significant role in any successful digital marketing strategy.
The unfortunate truth is that many businesses are hesitant to use LinkedIn because they aren't willing or able to commit the time it takes to learn how best to utilize this platform.
Because of its undeniable learning curve, companies are now turning towards LinkedIn outreach agencies to get the best possible ROI from their LinkedIn lead generation efforts.
If your business isn't currently using LinkedIn outreach or your current efforts aren't yielding your desired results, it might be time to consider using an agency or leveraging professional automation tools.
In today's article, we'll explain the importance of a LinkedIn outreach strategy and whether an agency is the best option to help you achieve your goals.
What is a LinkedIn Outreach Strategy?
LinkedIn is considered the most powerful platform for B2B outreach marketing and can yield some incredible results when proper care is put into developing your list of prospects.
Outreach marketing is a type of digital marketing that focuses on reaching out to new prospects and building relationships to generate leads. Outreach marketing campaigns involve a significant amount of research and planning to optimize the number of email opens and conversions.
The backbone of these strategies is the prospect list and the cold introduction message. If you don't know how to write a compelling cold message on LinkedIn, the effort you've put into building a list of prospects can feel like a waste of time.
What are the Benefits of a LinkedIn Outreach Strategy?
Outreach marketing on LinkedIn allows for highly focused outreach efforts as you can target specific companies or individuals based upon their industry, job title, location, and a variety of other filters. Outreach marketing campaigns can be adjusted to fit your business needs and goals by using LinkedIn Sales Navigator's robust targeting features.
LinkedIn messaging has a higher level of engagement than other types of outreach efforts with an 85% open rate, 3x that of traditional email. These results make this type of digital marketing very attractive to companies looking for cost-effective B2B lead generation campaigns.
Unlike traditional marketing, where the leads funnel through an email opt-in or a web form, outreach marketing on LinkedIn allows businesses to initiate the first contact with a personalized message to their list of prospects.
Why Should You Hire a LinkedIn Outreach Agency?
Save Time. When done correctly, outreach marketing on LinkedIn is a highly effective way to generate leads. However, it requires extensive research and planning to properly develop the list of prospects that will be targeted by your campaign. An agency can take on this responsibility and deliver scalable results while saving you time.
Scalability. As your business grows and your LinkedIn marketing efforts continue to scale, an agency saves you from needing to expand your workforce. Outreach agencies can do what would take you or your team days, if not weeks, in a few hours, for fees that are much less than the cost of hiring a new employee. By outsourcing your LinkedIn cold outreach marketing, you'll be able to scale your B2B marketing efforts and save money on labor costs without sacrificing quality.
Continuous Improvement. As your agency runs your outreach campaigns, they're able to track and monitor a vast amount of data points. They can adapt and fine-tune your outreach strategy with this valuable data until they've achieved and exceeded your desired results. Outreach agencies use this data to continually improve outreach campaigns and achieve maximum ROI.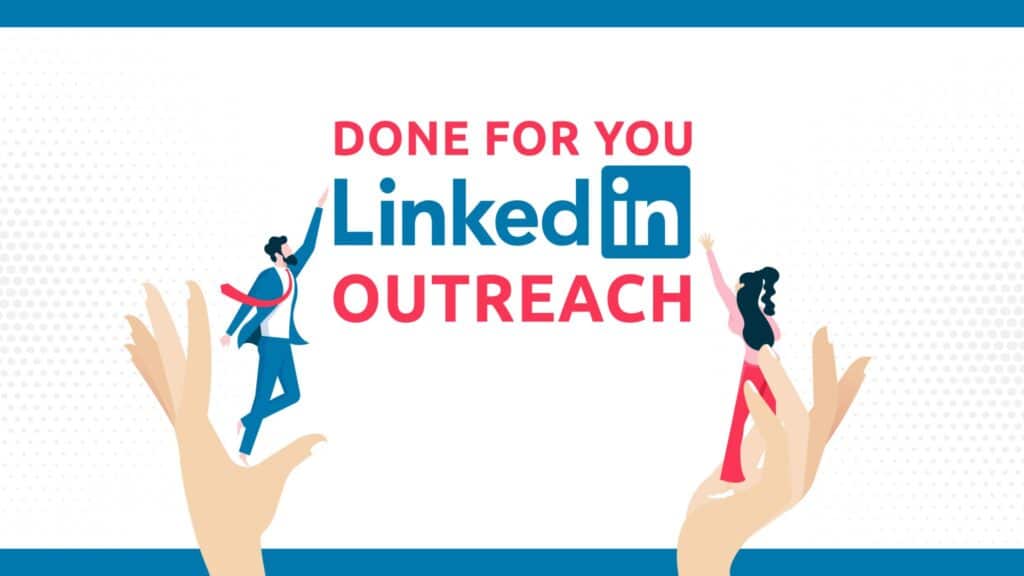 One well-known LinkedIn outreach agency is Kennected, who offer fully managed LinkedIn outreach services and more.
Can I Automate My Outreach Instead?
Yes! While agencies are an effective way to outsource your outreach efforts, they can be pretty costly, especially if you're a small business. With Lyne.ai's  LinkedIn outreach tools, you can keep your LinkedIn outreach efforts in-house for a fraction of the cost.
With the power of AI and machine learning, your team can write better cold intros, automate their prospecting, and scale your outreach marketing efforts to meet the needs of a growing business without increasing labor costs.
Looking for new prospects? Extract thousands of news leads from LinkedIn Sales Navigator in just one click with our LinkedIn scraper. Try it out for yourself today using our free trial.
Don't know how to cold message on LinkedIn? With Lyne.ai, you can generate hundreds of compelling, personalized messages to your list of prospects with a simple mouse click. Check out our blog post for a great guide on how to write cold emails.
Do you need seamless integration with your existing CRM tools? Lyne.ai integrates with your favorite CRM tools for an optimized workflow.
Some of the best outreach agencies use Lyne.ai tools to automate their efforts for their client base. By leveraging our automation tools in-house, you can eliminate the middleman while accelerating your marketing efforts beyond what was ever previously possible.
Review our existing case studies to see how Lyne.ai can take your marketing efforts to new heights.
Scrape LinkedIn Sales Navigator
Scrape & personalize cold emails without the hard work