Wiza Review
Read our Wiza review and see what other professionals have to say, learn about pricing, popular features, and discover all current integrations.
Wiza.co is a powerful prospecting tool that can nestle comfortably beside your existing CRM systems. You can prospect LinkedIn for new leads and enrich your existing contact list, improving conversion and simplifying your search for new contacts. 
Either use the software client or install a web extension for Google Chrome. However you choose to use the platform, it'll streamline your sales or recruitment lead generation, saving you valuable time.
With Wiza, you can literally extract anybody's work (professional) email address from LinkedIn and add it to your outreach database. In addition to generating email addresses that are verified, Wiza can routinely check their legitimacy and validity. Avoid poor delivery and open rates, and bypass spam filters with this powerful lead generation software.
Wiza Main Features
Scrape Data from LinkedIn: With Wiza's LinkedIn email scraping tool, you'll be given a complete CSV list of email addresses, pulled from sources that include social media. With a single click, you'll have a high-quality list of real contacts ready to go. 
CRM Integration: Integrate Wiza with your existing CRM system, including support for Salesforce, Outreach, and HubSpot.
Contact Enrichment: With Wiza's powerful algorithms, your newly acquired list of contacts is routinely scanned for accuracy, ensuring you only reach out to valid contacts.
Integration and Automation: A range of integrations with CRM systems and other tools mean that you'll be able to extract and manage your data from anywhere, on any device.
GDPR and CCPA Compliance: Rest assured that data is gathered correctly in accordance with regional data protection regulations.
Pay As You Go: Only pay for the leads you generate. Each month, you'll start with a predefined number of credits, but you can pay as you go for additional credits over your plan.
Credit Rollover: If you've got unused credits, Wiza's subscription model allows you to carry them over to the next month so that you don't lose money.
Integrations
Currently, you can integrate Wiza directly with Salesforce, Outreach, and HubSpot:
Salesforce:

When integrated with Salesforce, you can export all of your leads directly into the CRM. Either synchronize all your new contacts with Salesforce or save them as new contacts.
Outreach:

Export your enriched prospects to Outreach and automate any cold outreach activities.
HubSpot:

Push all of your contacts to HubSpot and automate communications with your new leads.
Pipedrive

: Populate your Pipedrive with vetted prospects and contacts pulled directly from LinkedIn.
Copper

: Fill your Copper CRM database with accurate phone and email data.
Salesloft

: Reach out to new customers and accounts with real-time prospecting.
Gmail

: Integrate with Gmail to create outreach campaigns that target your new, high-converting leads.
Outlook

: Target your new business opportunities with outreach campaigns directly from your Outlook account.
Zapier Integrations
Wiza is a relatively new tool, and as such, there are currently no Zapier integrations available. However, focusing on the pain points listed in some of the more negative Wiza reviews, there are opportunities to further improve and automate more of your outreach activities by investing some development time.
Wiza Pricing
There are two Wiza pricing models; one for Wiza Prospect and another for Wiza Enrich. You can sign up for Wiza on a monthly or yearly subscription plan, though opting for the yearly pricing model net you a 20% discount. 
Prospect Pricing
Wiza's "Prospect" plan offers three levels of pricing, starting at $30 per month for 100 credits and increasing to $100 per month for 1,000 credits. Additional pay-as-you-go credits range from $0.15 to $0.08 extra depending on the plan you choose.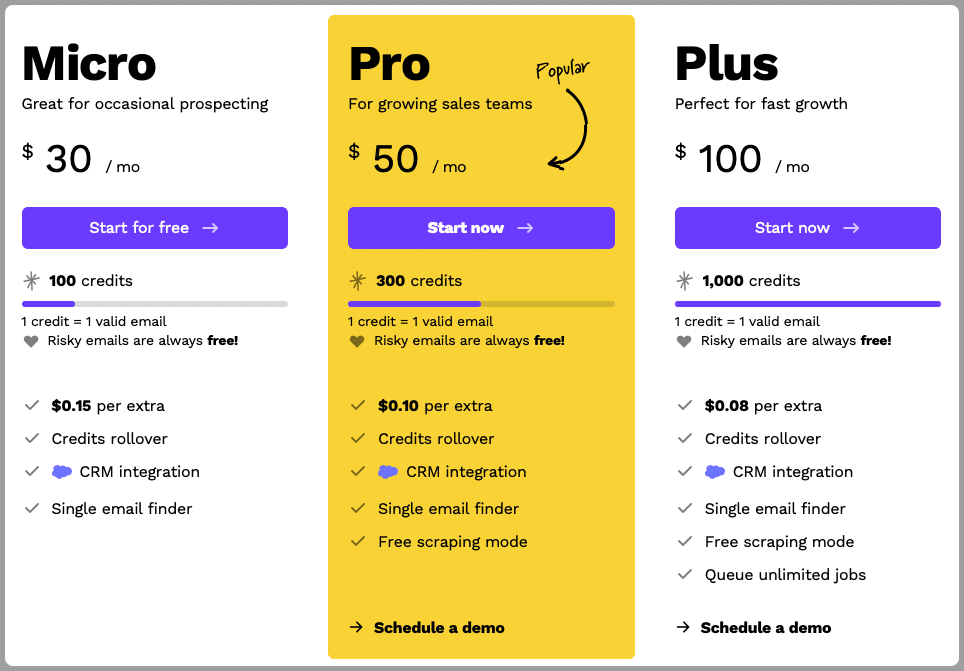 Micro Plan: For $30 monthly, you'll start with 100 credits each month, and you'll pay $0.15 extra for each additional credit used.
Pro Plan: Choosing this plan gets you 300 credits for $50 per month, and additional pay-as-you-go credits cost less, at $0.10. This plan also gets you access to a free scraping mode for gathering new leads.
Plus Plan: The most expensive plan is $100 per month, but you'll start with a huge 1,000 credits each month. Additional credits on the Plus plan cost just $0.08. In addition to the single email finder and free scraping, you'll also be able to queue unlimited scans and other automations or campaigns.
Whatever plan you choose, you'll also get access to a single email finder tool and CRM integration by default. Emails ranked as "risky" are free, and any unused credits will roll over to the next month in your plan.
Enrich Pricing
Wiza's "Enrich" plan works a little differently. The most basic plan lets you start for free and pay as you go for individual matches. No subscription is required, so you can try Wiza out without commitment.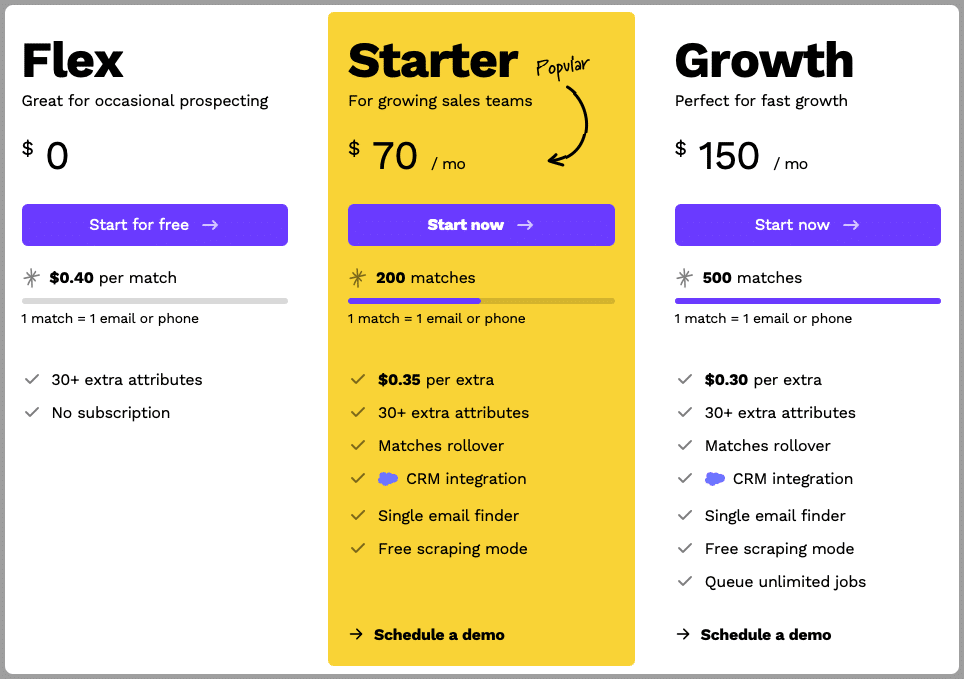 Flex Plan: Only pay when you get a successful match against a prospect's email or phone number. You're not tied into a subscription and instead pay $0.40 for a successful match. However, there's no CRM integration at this price point.
Starter Plan: For $70 per month, you get 200 matches, and unused matches roll over to the next month. Additional matches cost $0.35 each. You'll get access to the same tools in the "Prospect" subscriptions, including CRM integration, a single email finder, and free scraping mode.
Growth Plan: The most expensive tier is $150 per month, promising "fast growth". Start with 500 matches that roll over if unused, and pay $0.30 per additional match above that. You'll also get access to the same additional tools and CRM integration outlined in the Starter Plan.
Wiza G2 Score
As a relatively new tool, Wiza has around 50 reviews on G2, though customer feedback averages at a 4.5-star rating. Here's how that score breaks down:
Ease of Use: 9.3
Quality of Support: 8.8
Ease of Setup: 9.6
Check out some more detailed feedback below from real users who posted their opinions on the G2 website.
Positive Reviews

"Great tool if you use LinkedIn Sales Navigator to source leads."
"We like the ability to export leads from Sales Navigator toDyn365 crm. We had been looking for quite a while for a solution."
"Everything was really straightforward and easy to figure out when getting started"
Negative Wiza Reviews
"The Outreach and Salesforce sync doesn't allow for that much customization when you're importing leads."
"So far all of the emails that have been generated are ranked as "risky." If I am not able to get good emails, I am not sure that the value will be there."
"Takes a little time to pull the data."
Wiza.co Main Competitors
Wiza's functionality is powerful, but the same can be achieved with one of their competitors. That said, Wiza's pricing is fairly competitive by comparison to some other tools. Here are some popular alternatives to Wiza:
Summary
While still relatively green and lacking some social proof, the reviews that Wiza has accrued thus far are overwhelmingly positive. Some users would like more customization, but the beauty of Wiza is in its simplicity and main goal of getting new prospect leads into your hands.
Integrations, while available, are sparse at the moment. However, owing to the mostly positive customer reviews, it's likely we'll see development of more integrations, particularly via Zapier.
While some users have reported high volumes of "risky" email matches, world events and a high number of resignations and reassignments in 2020 likely play at least a small part in this. Wiza remains a powerful tool that could help you to bulk out your list of prospects and see an increase in your conversion rates.
Scrape LinkedIn Sales Navigator
Scrape & personalize cold emails without the hard work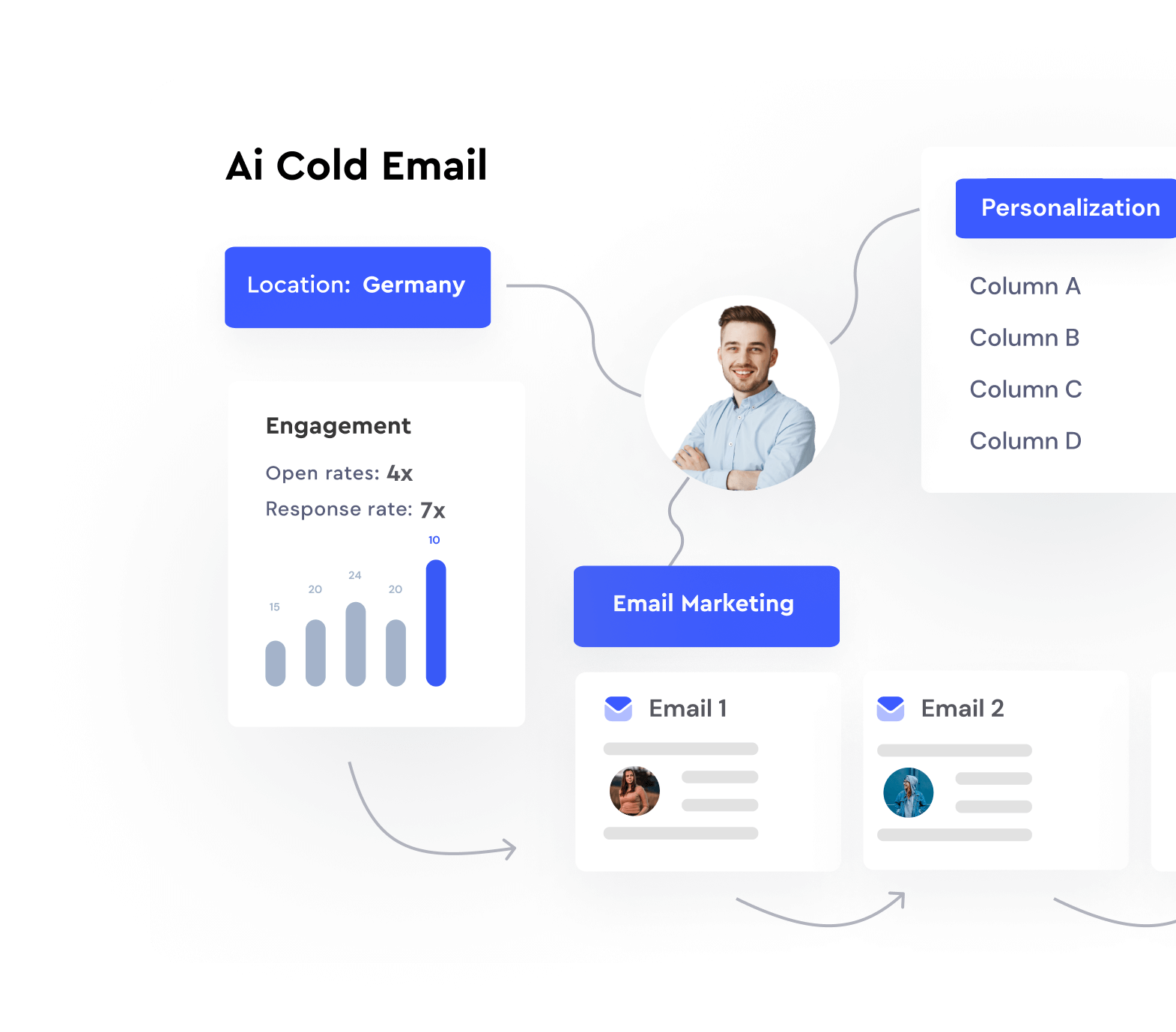 Hey, I'm Hans, Co-Founder and CEO of Lyne.ai. I used to run hundreds of campaigns for clients when I ran my own cold email agency. Having to train and manage that many virtual assistants or SDRs can get very stressful, which is why we built Lyne. Now you can write thousands of personalized first lines for cold emails in less than an hour & all without being locked into a monthly plan.