Lusha Review: Who are Lusha?
Read our full Lusha review below where we dive deeper into Lusha's features, pricing, reviews, data quality, and more.
Following "The Great Resignation" prompted by the COVID-19 pandemic it has become more and more important to update those contact databases.  Sales and marketing managers are struggling to keep up with the rapid turnover of key personnel.
Meanwhile, recruiters face both an opportunity and a challenge – a lot of vacancies to fill and a growing restlessness from white collar workers about their career choices and current roles. 
Automated tools which serve to assist in the process of accurate lead generation ought to be in high demand. From the host of SaaS products available, Lusha stands out as tailormade to help stressed-out sales or recruitment professionals keep on top of a rapidly changing workforce.
Lusha is a business intelligence and lead building tool which aims to enrich your contact list, increase conversion rates, and streamline your sales prospecting. It has a web extension which works with the Chrome, Firefox and Edge browsers, and a prospecting tool for bulk prospect list building and contact verification.
It's aimed at sales representatives and managers who want to systematize their sales prospecting and improve their hit rates. Lusha's B2B product is used by over 800,000 sales pros and they offer versions for both small businesses and large-scale enterprises.
Some of the latter include Google, Amazon, Saleforce, and Apple, so this is clearly a business information solution to be reckoned with.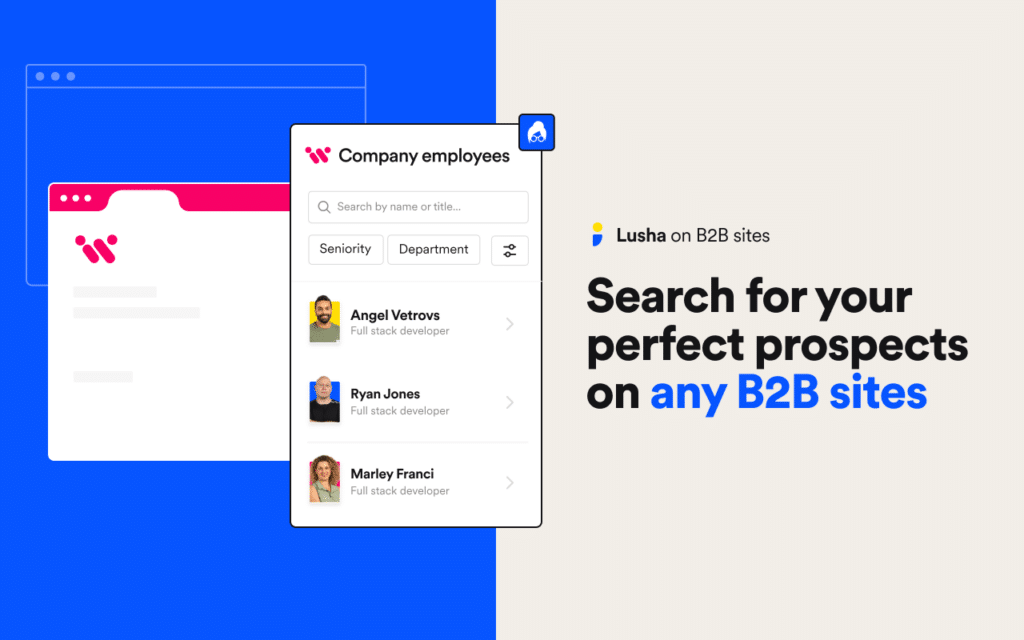 Lusha offers advantages in terms of empowering both sales managers and sales reps.  It aims to give managers the confidence that their reps are following qualified leads and adopting the same process.
At the same time, individual reps can work more independently since they don't need to reply on colleagues to supply them with verified leads – Lusha is designed to do that for them.
Lusha Review: Data Compliance
All Lusha's records are both CCPA compliant and GDPR aligned, so users shouldn't fall foul of any legislation regarding the possession or use of business contact information. All the data they source is publicly available (just a little cumbersome and time consuming to source manually).
It's effectively a productivity tool, which speeds up processes that sales departments already engage in, making them more efficient and better aligned with related business processes such as CRM.
Lusha's site breaks down its use cases into sales, marketing, and recruitment.
Sales:

Lusha claims to offer access to over 50 million direct dial numbers and intelligent search facilities to homing in on promising prospects.

Marketing:

They add another 50 million emails to their sales prospect offering, allowing campaigns to be built which stand a good chance of reaching the right inboxes.

Recruitment: Lusha can data scrape LinkedIn and other sources to find the top candidates while they are actively seeking new positions.
Main Features
Web Extension: Install Lusha on Edge, Firefox, or Chrome so you can easily extract contact data from LinkedIn, your Gmail inbox or other B2B sites.
Monthly Free Contacts: Five qualified contacts for free each month, on top of those you purchase.
Bulk Enrichment: Automatically add up to 150 contacts to your CRM with a single click.
Lead Data Segmentation: Searchable database, which can be sliced by industry, location, seniority level and more.
Savable Searches: For quickly repeating a prospecting dive, save your bespoke search criteria for easy access in future.
CRM Integration: Lusha supports fast and straightforward integration with the leading CRM platforms, including Hubspot, ZOHO and Salesforce.
Customizable Contacts API: Shape your database in collaboration with Lusha to shape exactly the format you want.
Data Cleaning and Enrichment: These processes can be run in bulk, to ensure your data is kept as current as possible, as quickly as possible.
Data Access Security: Restrictions on access can be set dependent on user ID, user role and other criteria.
Reporting / Dashboards: Visual reports can be exported for circulation, or access can be provided to dashboards giving up-to-the-minute information.
Lead Monitoring: There are limited onboard features for lead monitoring, including performance markers.
GDPR and CCPA Compliance: Stay on the right side of the law, by ensuring your data is obtained in adherence to all local data handling regulations.
Integrations
Lusha readily integrates with the following business tools:
CRM's: HubSpot, ZOHO, Pipedrive, Salesforce
Sales Engagement Systems: Salesloft, Outreach
Email Services: Outlook, Gmail
Automation Tool: Zapier
Zapier Integrations
Through Zapier, you can pair Lusha with Facebook, LinkedIn, Excel, Bullhorn CRM, Intercom, Twitter, Reply, Airtable, and many, many more. 
However, there are no listed triggers on Zapier and only one supported action at present, which is to look up a contact. Some work may therefore have to be done by your developers to obtain best value from Lusha in collaboration with Zapier.
The 'Lookup Contact' action could be used to find new contact information for new Google Sheets entries for example or to enrich new Salesforce entries. While those use cases go beyond the scope of this Lusha review, we recommend having a look at the Lusha Zapier listing page to see if the integration you need is available.

Pricing
Lusha can be paid for in single annual payments, or monthly installments. There's a trial starter version which is free and offers five complimentary contacts per month.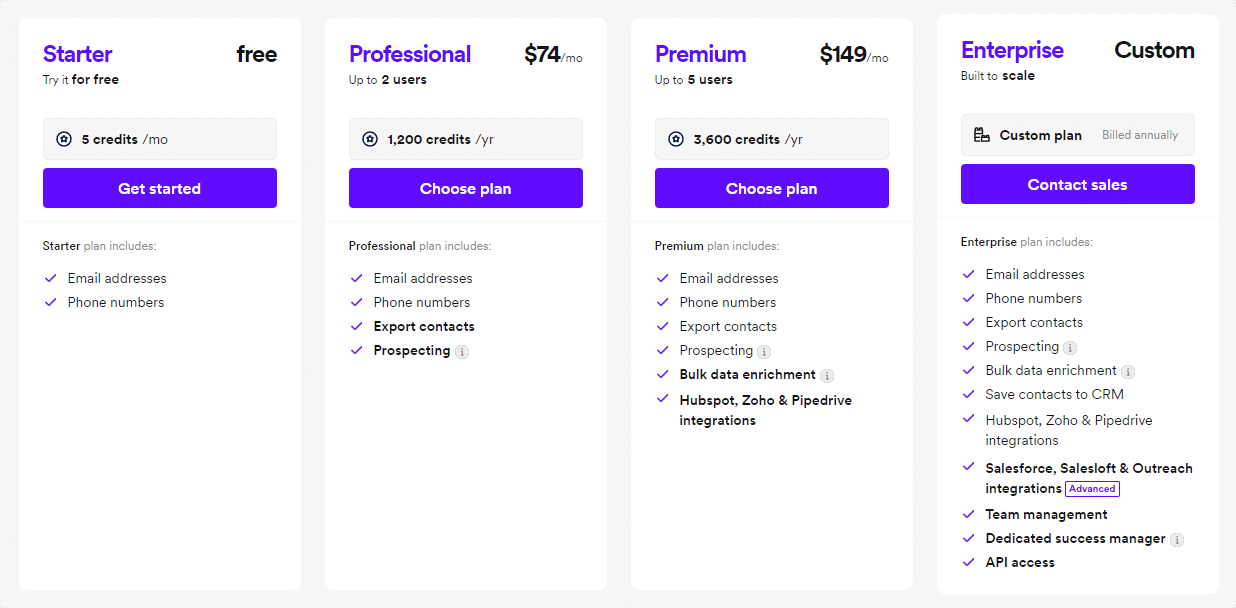 For paid subscriptions, you have the following options:
(the first cost listed pertains when you pay in one installment; the second is for monthly installments).
Professional 2 users 1200 contacts/yr email addresses and phone numbers plus
$74/$99 per month exportable contacts and prospecting options.
Premium to 5 users 3600 credits/year email addresses and phone numbers plus
$149/$199 per month exportable contacts and prospecting options,
bulk data enrichment and CRM integration.
Enterprise Customed to your requirements All the above plus added integration, team
Cost negotiable management, API access plus dedicated "success
manager".
Price may prove a sticking point with smaller businesses looking to scale up, since this is quite a large monthly outlay.  However, with a free trial version and a bespoke Enterprise solution, there may be ways to reduce these costs or justify the expenditure.
G2 Score
Lusha has a 4.5-star rating on G2.com, from 1208 reviews. The Lusha User Ratings breakdown like this:
Ease of Use: 9.3
Quality of Support: 8.1
Ease of Setup: 9.1
Here are the G2 scorings for data availability and quality:
Contact Data Availability: 76%
Contact Data Accuracy: 74%
Company Data Availability: 76%
Company Data Accuracy: 75%
Industry Research Availability: 74%
In addition, the other product features score highly, including 86% for its browser extension and 75% for lead validation and enrichment. Social media data capture stands at 83%. Integration proves a winner with G2 reviewers, scoring a whopping 86%.
Here's what some Lusha users had to say on the G2 site:
Positive Lusha Reviews

"It's a great, intuitive system with regular updates. The quality of information is the highest I've seen on such platforms."
"The quality of data is really good and helping us create better pipelines for our sales quotas."
"Lusha is a fantastic tool for helping to reduce the amount of time it takes to make contact with a target account."
Negative Lusha Reviews
"Horrible customer support."
"There is no function to see if [contacts] are on Do Not Call lists."
"A good proportion of the data is out of date, dead numbers."
Capterra Score
The star rating for Lusha on Capterra is 4/5 from 199 user reviews. The reviews breakdown as follows:
Overall: 4/5
Ease of Use: 4.7/5
Customer Service: 4/5
Features: 4.1/5
Value for Money: 3.6
And here's what Capterra reviewers reported:
Positive Lusha Reviews
"Lusha is incredibly easy to use and integrates perfectly with our company's Salesforce."
"It's a one stop shop for getting authentic data of key persons who are difficult to reach for sales."
"Its easy to install and integrate with other software."
Negative Lusha Reviews
"The import feature was too clunky and didn't add much benefit."
"A lot of the emails are unfortunately wrong."
"It's just not competitive enough to justify the cost."
Lusha Competitors
There are few products which directly replicate the Lusha offering, but several focus upon key elements of what the product can provide.
Here are some of the popular alternatives to Lusha:
In Summary
Lusha scores highly with reviewers, many of whom are loyal to the product, pointing out how easy it is to install and use.
Criticisms tend to center upon the fact that it is relatively expensive, outdated information (which is to be expected) and a lack of support are the most common topics in users their Lusha review. 
Integrations may be required in order to accurately scrape data from sources other than LinkedIn or business websites.
Despite these downsides, Lusha does tend to stack up very well against its competition. Its high number of professional adopters and large quantity of online reviews suggest that Lusha is a good bet when you're building a database of contacts.
It's important to note, however, that email addresses and phone numbers provided may not be 100% accurate, since employees move jobs with greater frequency in the 2020s.
Lusha remains a strong contender within the category, however, and could save your sales and marketing teams considerable time and effort, while we hope this Lusha review has helped you do the same.
Scrape LinkedIn Sales Navigator
Scrape & personalize cold emails without the hard work