The success of your LinkedIn scraping campaign hinges on using the right scraping technique—which, in the tech world, boils down to using the right scraping tool. But every other day, the disappointment that comes with getting banned on LinkedIn could be scary.

Sometimes, it happens because you're not aware of the nature of LinkedIn's algorithm and other times, it's about not using the right scraping tool that fits your needs.
How to not get banned from the platform while using automation? How frequently should I use it? How should I verify the scraped data?

This article will break down everything for you—from finding whether LinkedIn is illegal or not, to understanding the different techniques to scrape LinkedIn and exploring the right tools.

Ready? Let's dive in.
Is LinkedIn scraping legal?

LinkedIn has a bitter affair with automation. 

It doesn't like automation, so the platform's algorithm keeps on changing—making it tougher for people to use automation. This leads to the assumption: scraping LinkedIn data is illegal. 

But is that the truth? Let's find it out.

TL;DR: Scraping LinkedIn is legal.

In 2015, HiQ Labs, a data analytics company scraped LinkedIn profiles to analyze employee attrition data. They intended to use data and help businesses understand:
how much would it cost to lose a senior employee

who is planning to leave the organization

who would be the top-ranked candidates among new hires

In 2017, it was revealed that the data HiQ Labs collected came from LinkedIn—which the company wasn't happy about. So, they sent cease and desist orders to HiQ Labs to stop scraping LinkedIn data. They implemented several technical measures to prevent the company from scraping LinkedIn data again. 

In return, HiQ Labs fired back a lawsuit at LinkedIn demanding them to remove technical barriers to access data. Since then, the company has tried to claim that HiQ Labs has violated the 1986 Computer Fraud and Abuse Act by scraping data. However, LinkedIn couldn't win the argument as the court believes anyone can scrape publicly accessible data. 

Therefore, LinkedIn scraping is legal and anyone can scrape the data publicly accessible to people on the platform. 

What kind of data can you scrape from LinkedIn?

You can scrape several data points from LinkedIn like:
LinkedIn profiles

LinkedIn groups

LinkedIn company profiles

Job listings

Search results
But that's not all. You can scrape many more data points, which we'll talk about further.
Now you know the data points you can scrape from LinkedIn, but the next question arises: how to scrape LinkedIn data? 
Techniques for scraping LinkedIn data

Scraping LinkedIn data boils down to four main techniques: 
Google hacking

Manual search

Python

Third-party tools
Let's understand each of these techniques briefly.
Using Google Hacking
Google hacking is the easiest method to scrape LinkedIn data. To use this technique, you need to remember the keywords to use in Google search bar.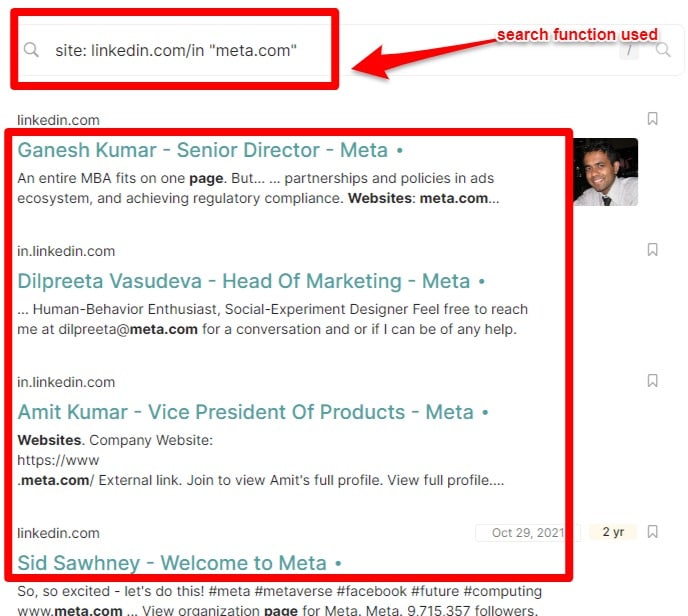 No doubt, it's an intelligent technique, but only when you need to scrape a small list and are ready to do the manual work. Otherwise, it's a time-consuming method.
Manual Search
While running the LinkedIn outreach marketing agency, Jeremy Lebourgeois, CEO at HelpIn emphasises on using the manual search process.. He says,
"In the age of automation, we use our team to scrape LinkedIn data. Our team takes the time to manually collect the emails and phone numbers of prospects. The team generally go through the profiles on prospects, connect with them, look for their email addresses and phone numbers. Our clients enjoy this simplicity and almost non-existent risk of being banned from LinkedIn."
Sure, that's a great strategy but may only work if your team has the bandwidth and resources to do the comprehensive manual work. And if you're looking to scrape extra data apart from the two basic data points, it will drain your time and efforts.
That's where you need a better way to do it: Python.


Using Python
You can use Python for LinkedIn scraping if you are a coder. This is an advanced method that requires you to have technical knowledge. But today, our focus is on a non-technical method, which involves no coding. It's easy to use, time-savvy, and requires no coding.
Using third-party tools
Even though there are several methods like Google hacking and Python to scrape data, we want scraping methods that are a no-brainer for non-technical folks. That's where third-party tools come into the picture.
With these tools, you don't have to sit down for hours, find the data and sift through the excel sheets. Instead, you need to integrate your LinkedIn or Sales Navigator profile with the tool and start scraping.
To start using third-party tools, find the right scraping tool with the right features that work for you.
Are you looking for a tool that scrapes the key information of prospects, and puts them in an automated LinkedIn messaging sequence? Or, are you looking for a better solution that helps you scrape the contact information and automate entire cold email outreach?
Do your research and analyse your needs, and then shortlist the tools that meet your needs before finalizing the right one!
5 tools you can use to scrape LinkedIn
Let's understand the different LinkedIn scraping tools to find out what works the best for you.
Lyne.ai
Lyne.ai allows you to send hyper-personalized cold emails, scrape LinkedIn data from LinkedIn Sales navigator, and enrich prospects with accurate information.
The platform extracts verified emails from LinkedIn and lets you write personalized emails using their AI. This is done using the company's blog posts, newsletters, and other content sources to navigate and find deeper information for laser-focused personalization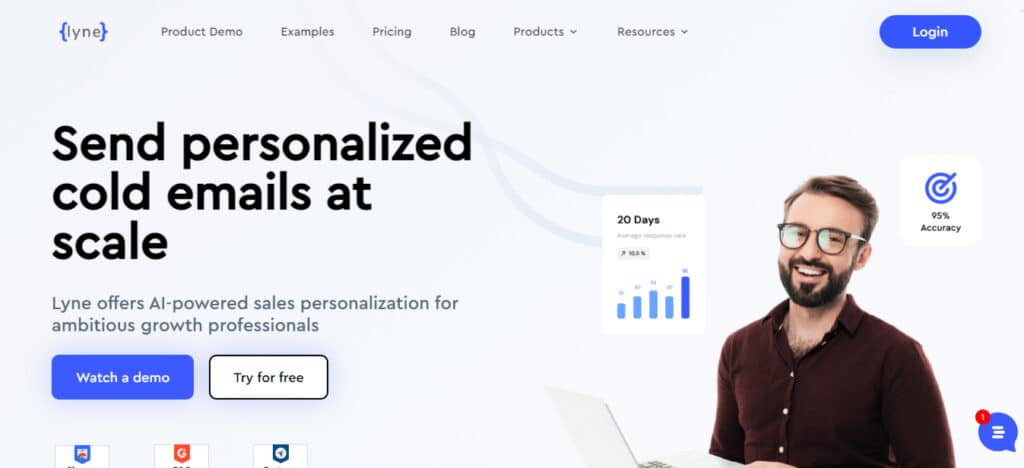 What do we like about Lyne.ai?
It gives 95+% accuracy for emails, AI-generated email liners and source links for each generated copy.
It extracts prospects' work emails and mobile numbers in the output CSV file.
It lets you scrape tons of data points with a single tap. These data points include connection degree, profile image URL, shared connection count, name, LinkedIn profile URL, query, timestamp, etc. 
It verifies all the information before downloading it—saving you from getting invalid contacts.
Lyne.ai's pricing plan
Free trial:

Provides 50 Lyne credits and 50 email credits.
Paid month plan:

Gives you email credits, unlimited mobile credits, credit rollover, webhook integrations, a safe cloud-based scraper, and unlimited seats. 

With the $39/month plan, you will receive 2000 email credits per month. With the $89/month plan, you get 5000 email credits per month. With the $189/month plan, you get 20,000 email credits per month. For unlimited email credits, you pay $497 per month.
PhantomBuster
PhantomBuster lets you create workflows and phantoms to scrape data from LinkedIn, Sales Navigator, Twitter, Instagram, Google Maps, and more. You can create different Phantoms like:
Sales navigator search export

Sales navigator list export

LinkedIn search export

LinkedIn profile scraper

LinkedIn auto connect

LinkedIn connections export

LinkedIn company scraper

LinkedIn message sender

LinkedIn profile URL sender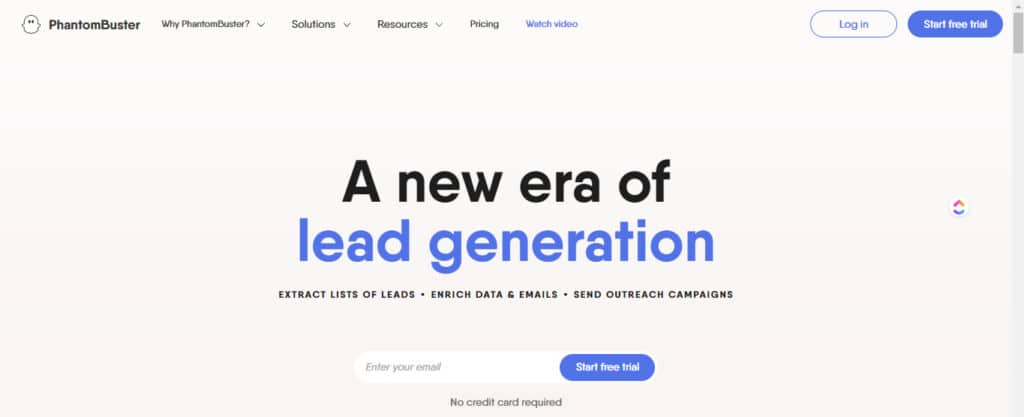 What do we like about PhantomBuster?
It gives you customized scraping options tailored to your specific needs and makes extraction setup easy.

It allows scraping multiple data points like LinkedIn sales navigator search, likes and comments on the post, LinkedIn URL, LinkedIn group, and company page's followers.
PhantomBuster pricing plan
The pricing plan is divided into 4 categories: Trial, Starter, Pro, and Team
Free trial:

It comes with 14-day free access, offers 2 hours of execution time per month, 5 slots for phantoms, and 50 email credits.
Starter plan:

It comes with a price of $48 per month, offers 20 hours per month, 5 slots for phantoms, priority support, and 50 email credits (per month).
Pro plan:

It comes with a price of $112 per month, offers 80 hours per month, 15 slots for phantoms, priority support, a dedicated expert, and 2500 email credits (per month).
Team plan:

It comes with a price of $320 and offers 300 hours per month, 50 slots for phantoms, priority support, a dedicated expert team, and 10,000 email credits (per month).

Dux-Soup
Dux-Soup helps you find qualified leads who automatically engage with your target audience, endorse their skills, send personalized connection requests, and smart nurturing campaigns.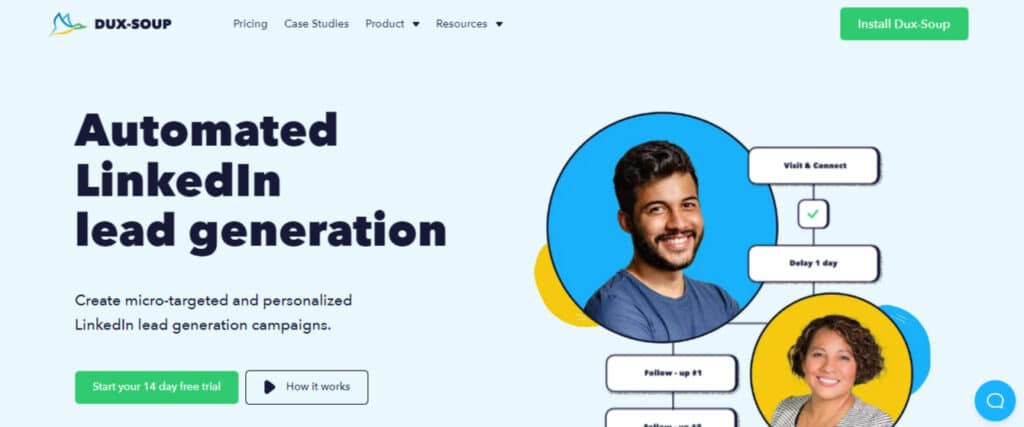 What do we like about Dux-Soup?
It lets you build a solid network of potential customers and automate the time-consuming task: making connections, scanning accounts into lists, and putting them into an automatic message sequence.
It mimics real human behavior, reducing the chances of getting banned from LinkedIn.
It can import CSV files from different platforms like Apollo and offers great customer support.

Dux-Soup's pricing plan

Dux-Soup offers variable plans for individuals, teams, and agencies. These plans are: Starter, Pro Dux, and Turbo Dux
Starter plan:

It offers introductions for all users, and it is free to use.
Pro Dux plan:

It offers automations for outreach and is available as a monthly, annual, individual, team, and agency plan. It costs $11.25 per month.
Turbo Dux plan:

It offers scalability for your lead generation process and is available as a monthly, annual, individual, team, and agency plan. It costs $412.50 per month.

Lemlist
Lemlist is an email outreach platform that helps you start conversations and get replies from prospects. The Lemlist and Dropcontact integration also allows you to scrape LinkedIn data. With this, you can automate multi-channel prospecting—email and LinkedIn messages from LinkedIn, your CRM, or a simple CSV file.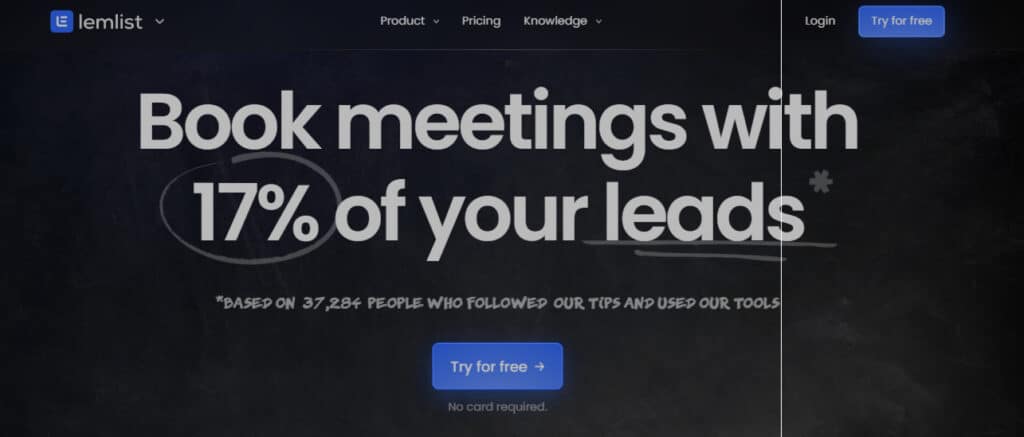 What do we like about Lemlist?
Dropcontact's integration syncs directly into the sales automation sequence—letting you add titles, correct and normalize the first name, and add all the company information.

Lemlist's pricing plan

Lemlist offers different plans: $59 per seat/ month, $99 per seat/ month, and a customized plan for outbound agencies. 

However, the $59 plan does not offer LinkedIn scraping.
$59/ month plan:

It offers personalization, automated follow-ups, unlimited workflows and emails, Zapier integration + Lemlist API.

$99/ month plan:

It offers automated LinkedIn outreach, video prospecting, LinkedIn Chrome extension, and native enrichment and cold call integrations.

LinkedIn Helper 2

LinkedIn Helper 2 is focused on LinkedIn and helps you scrape and automate LinkedIn. It allows you to create your own prospecting scenarios: visiting and scraping LinkedIn profiles, automating following other profiles, and sending invites and messages.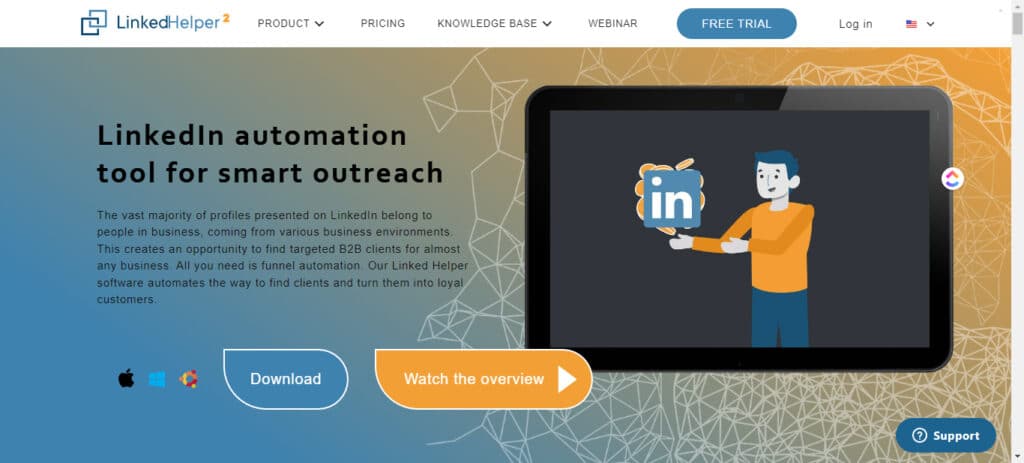 What do we like about LinkedIn Helper 2?
It has a deep level of features for messaging and following up and helps eliminate the chances of sending the same, repetitive messages to the same person—saving a lot of time and effort.
It comes with the possibility of running more than one campaign at once and the convenience of the tool's usability.
It offers omnichannel possibilities i.e., you can create campaigns via both email and LinkedIn in parallel.

LinkedIn Helper 2's pricing plan

LinkedIn Helper 2 offers three pricing plans: Trial, Standard, and Pro.
Trial plan:

It offers a 14-day trial of all the core features to get started with LinkedIn automation.
Standard plan:

It offers limited LinkedIn automation for messages and data scraping. It costs $8.25 per month (for 12 months).
Pro plan:

It offers advanced LinkedIn automation features for lead generation. It costs $24.75 per month (for 12 months).

Mistakes you made while scraping LinkedIn

No doubt you've made mistakes while following your scraping system in the past. Maybe you're still doing it. Here are 2 common mistakes we've found people make while scraping LinkedIn data.

Mistake 1: Using sketchy scraping tools

Using sketchy tools can make your entire scraping process tedious—from setting up the tool to integrating it with LinkedIn, and finally exporting the CSV files—your entire LinkedIn scraping workflow could be crooked and unproductive.
When you integrate such tools in your scraping process, it costs you leads and money both.
Mistake 2: Leaving raw data on the table
Brian David Crane, the Founder, and CMO of Spread Great Ideas talks about the blunder he made by leaving raw data:

"Leaving raw data was a blunder I made while scraping. I did not save the search page while scraping and had to download the entire data again; everytime, I noticed any missing information."
When you move forward with your scraping process without saving the original data, and you realize later the need for original data, you have to go through the same cycle again—searching for the same keyword, saving the results and then exporting the data. This takes double effort and resources. 

Challenges faced while scraping LinkedIn using a third-party platform

Two common challenges of scraping LinkedIn:
Getting banned from LinkedIn

Not staying relevant with exported data

Challenge 1: Getting banned from LinkedIn 

Scraping too much LinkedIn data can get you into a problem, i.e., getting banned from LinkedIn. 

That's what Arnab Ghosh, Chief Analogy Expert at Analogenie emphasized upon too. 

"When I used PhantomBuster to scrape LinkedIn data, I did it excessively. I scraped a lot of data every day, which led me to get banned. But ever since I have been scraping data once a week, I haven't faced the challenge of being banned."

You see? Two problems surface here:
Getting banned from LinkedIn

Using automation excessively

Even though tools like PhantomBuster put a time limit on the number of hours you can use to scrape data (based on the tool's pricing plan), if you use these hour slots excessively—probably, daily— you'll get banned.

Challenge 2: Exporting irrelevant data

Imagine you've invited guests to dinner. You're excited about it. You set up the table, reorganize the decor, and prepare dinner for them. Guests come and sit down for dinner. 

But, an unexpected disappointment occurs: your guests eat vegetarian food. And the only meal you've prepared is non-vegetarian. Yikes. You didn't check with them before setting up the dinner.
That's what happens when you download your scraped list without verifying it. 

So many times you extract the data only to realize later that it is invalid. Result? You have to invest more time scraping the data again. And that halts your productivity.
Isaac Newton, Co-founder and Chief Editor of Total Shape remembers the mistake he made and says, 

"We made a mistake early on in our LinkedIn venture. We didn't thoroughly collect the data we collected. This led to inaccuracies in the contact information we collected, which led us to reach out to the wrong people or have our messages bounce back. We learned from this experience and now we validate our data before using it for lead generation, ensuring our outreach is more targeted and efficient."

You see? Inaccurate or irrelevant data can clog your outreach's efficiency. That's why you need LinkedIn scraping solutions to verify the scraped data before downloading it. 

Engineer a better lead sourcing system with Lyne.ai

Lyne.ai can help you repair the unproductive LinkedIn scraping system you;ve currently been following. How? Well, here are 4 use cases to help you understand how this solution can improve your scraping process. 

Use Case #1: Scrape LinkedIn with a Single Click

Using third-party LinkedIn scraping tools can be a bit time-consuming for many people. It requires you to sit down and educate yourself about how the tool works.
For example, many people find understanding the usage of Phantom Buster slightly complicated, especially because it requires you to create flows and phantoms. 

But the problem gets eliminated with Lyne's 1-click scrape and export. 

Here's the simple process of how Lyne works to demonstrate the process better:
Install Lyne's Chrome extension. 

Now, go to Sales Navigator and search for the list you want to scrape. 

Next, click on Export with Lyne. 

You'll see Lyne's dashboard where you can name the list, pick the folder, and set the number of people you want to scrape.

Click on the Start Now button, and Lyne will begin the scraping process.
Starting your first Sales Navigator scrape with Lyne

Use Case #2: Scrape additional data points

The goal here is to not limit yourself by *just* collecting work email and company details. You can use several data points to make your outreach super-targeted.
Some of these data points include:
Full name & job title

Education, location, and work email personal email, and mobile number

Company name, domain, company size, industry, company location and founding year, and LinkedIn company profile

Prospect's social media profiles (LinkedIn, Facebook, Twitter & GitHub) 

Prospect's connection count, first-degree connection, Sales Navigator URL

But that's not all. You can find in detail the 33 data points you can scrape with Lyne.

Use Case 3: Validate your emails

Imagine exporting scraped data only to find out later that the scraped contact details are invalid. Yikes.

That's why Lyne verifies the scraped data before downloading it. And the most exciting part? You only pay for verified contacts—no fuss about your money being wasted. 

Use Case 4: Sync with CRM

You can streamline your entire outreach—from scraping LinkedIn data to sending emails to prospects—sync your scraped .csv file and upload it to the desired CRM for email outreach.
Lyne takes a step ahead by uploading the scraped contact list to the cloud CRM. You can then create cold email intros, customize and use them to scale your cold email outreach.
Using third-party scraping tools doesn't have to be complicated
Scraping LinkedIn data doesn't have to be complicated—it can be as simple as exporting the data with a single click.
Evaluating these scraping techniques and no-code tools can definitely give you a head start. But, that doesn't mean you have to go through the complex tools that don't fit your needs every time: use Lyne.ai's LinkedIn scraping tool to get multiple data points scraped instantly.
Scrape LinkedIn Sales Navigator
Scrape & personalize cold emails without the hard work