Even though LinkedIn Sales Navigator provides you with emails, extracting emails through it doesn't always work. Firstly, even though LinkedIn Sales Navigator fetches the email addresses of the leads, it is tough to identify which email addresses are valid and which are not. Perhaps this is why many people prefer to use an email finder to fetch valid email addresses. 
Finding the email addresses of the first-degree connection is the easiest. However, even for first-degree connections, only 30% of the profiles will have an email address. Furthermore, 60% of the email addresses of the first-degree connections are personal.
Finding Valid Emails Through LinkedIn Sales Navigator Is Tough
The main problem of LinkedIn Sales Navigator is that it doesn't make it easy for its users to export search results that may include valid emails easily. Also, if someone chooses to hide their email addresses, irrespective of the fact whether the contact shares the first-degree connection or not, it is impossible to lay your hand on the email address.
Additionally, many LinkedIn users create an account using their personal email address, which they never change. Compared to professional email addresses, personal email addresses are of not much use. 
Furthermore, without a first-degree connection and private email address setting, even  LinkedIn Sales Navigator cannot help you with their email addresses. 
To sum up, even though LinkedIn Sales Navigator is beneficial in finding the right prospects to build a lead list, it is not very efficient in providing an email address to nurture the lead. 
Where Are Email Addresses On LinkedIn?
Before understanding how to use LinkedIn email finder to extract valid email addresses, let us first see where one can find an email address on LinkedIn. Generally, you can find your email addresses in three places on LinkedIn:
The "Contact Info" Section.
Below the headline, you will find the link for "Contact Info." If someone has made their email address public, you can easily find the email address and other information like phone numbers and social media links in this section. 
Banner 
It's in trend for B2B professionals to put their contact information in the banner they use on their LinkedIn profiles. It's a move taken by the users even to give the non-connections a chance to contact them. 
LinkedIn Bio 
Lastly, many LinkedIn users put their working professional email address, sometimes with a phone number, at the end of the bio. It is a call-to-action strategy on their part. 
Email Scraping From LinkedIn Sales Navigator Is Inefficient 
We have just discussed how LinkedIn Sales Navigator does not always fetch you an email address. Now the question is, how valid are the email addresses that LinkedIn Sales Navigator manages to fetch?
The short answer is using LinkedIn Sales Navigator to scrap email addresses is inefficient. There are three primary reasons for this.
First, most of the email addresses are outdated. For instance, most users never update their email addresses after creating a LinkedIn account with it.
Based on their job change, their professional email address also keeps changing. As a result, the LinkedIn Sales Navigator's email address might be outdated or not in use. Therefore, the contact information's email address differs from the actual professional email address. 
As discussed above, 60% of LinkedIn email addresses are personal. It goes against professional ethics to use personal emails for prospecting. Not only the prospect won't appreciate this move, but in a few countries, it is illegal too. 
Lastly, not all email addresses are verified. Sending emails to a large number of email addresses that actually don't exist might mark your email address as a spammer. It creates an additional layer of problems while connecting with genuine leads with the correct email addresses. 
How To Get Valid Email Address From LinkedIn Sales Navigator?
Now that we know about the problems of fetching valid email addresses through LinkedIn Sales Navigator, let us see what we can do to solve this issue. 
LinkedIn email extractor or LinkedIn email finder is a software that helps users to extract valid email addresses from LinkedIn Sales Navigator. It is primarily available as a Chrome extension or web app.
With LinkedIn email finder, it is possible to build a strong email list of contacts in your lead list. You can also use it to overcome the frustrating limit of the LinkedIn InMail system. 
Also, LinkedIn email extractor allows you to modify the criteria to generate a list of only active email addresses. 
In the next section, we will discuss how you can use a LinkedIn email extraction tool to fetch valid email addresses from LinkedIn. 
How To Use LinkedIn Email Extractor To Find Valid Email Addresses?
The functioning of nearly all the LinkedIn email extractors in the market is nearly the same. 
Firstly, you need to create a lead list using LinkedIn Sales Navigator. Then choose a LinkedIn email extraction software that supports a good hit and accuracy rate. Once you have selected the email finder software and the lead list is ready, download it.  
After downloading, you can use the LinkedIn extraction tool as a Google Chrome extension if the software supports it. With a Google Chrome extension, a mini icon of the tool will appear in the top right corner of the LinkedIn Sales Navigator.
Whenever you wish to extract an email, simply click on the icon, and the tool will work to fetch the valid email address from the profile. 
After extracting the email address, if you have the option to export it to the CRM directly, use the feature to speed up the prospecting process. If the LinkedIn email extractor provides an email verification feature, use it to double-check whether the email id is valid or not. 
However, if the LinkedIn email extractor does not support an email verification tool, we recommend you use other software to get the job done. '
To summarize, extracting a valid email address from LinkedIn using Linked Sales Navigator involves three steps:
Use the Sales Navigator's advanced search feature to create a lead list. 

Sync the connections between the Sales Navigator and a CRM. Sales Navigator supports seamless synching with Salesforce Hubspot, Outreach, and Pipedrive.

Enrich the lead list using a Linkedin email extractor/finder.
An additional step involves verifying the emails after extracting them.
Good email extractor software is the one that, apart from getting valid email addresses, also updates the changes in the CRM as soon as it happens. To speed up the work, sync your LinkedIn Sales Navigator account with the CRM. 
Wrap-Up
LinkedIn Sales Navigator is undoubtedly a handy tool for B2B companies to generate leads. It automates lead generation to a certain extent.
However, it is not a good tool for extracting the email addresses for nurturing the leads. But a suitable LinkedIn email extractor can quickly fix this issue.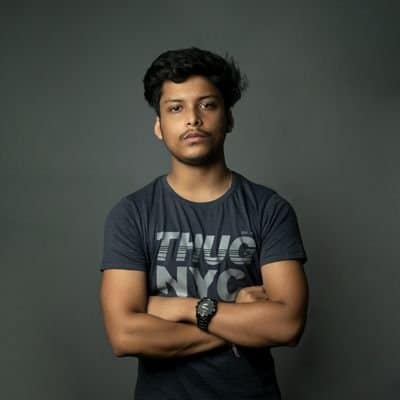 Hi, I'm Achintam Karmakar, the SEO Guy at Lyne.ai. I work to improve Lyne's online presence and bring you the best content.