Outreach.io Review
Read our Outreach.io review and see what other professionals have to say, learn about pricing, and discover all current integrations.
In the hyper-competitive world of SaaS sales, staying one step ahead of the competition is vital. With hundreds of providers of business and productivity tools out there, how do you stand out in a crowded marketplace and achieve the customer engagement levels you need to take your business to the next level?
This is the problem Outreach have set out to solve. Their sales engagement platform is really a suite of tools to help both sales reps and team leaders leverage data, insights and time-saving shortcuts to improve workflow and increase revenue. As we shall see, there's little Outreach hasn't thrown into its package, which is probably why it's the top-selling product in its category.
Modern sales teams are a world away from 20th century norms of intuition, guesswork, and dog-eat-dog competition. In fact, some of the concepts that Outreach plays with, such as collaborative success plans (where seller and buyer collaborate transparently to finalize a deal) would seem bizarre to an old-school sales rep.
But Outreach-using sales teams have data on their side, so they can back up their strategies with stats. The platform utilizes data science, AI, and machine learning to glean insights at scale and in granular detail. Sales leaders can track the progress of individual deals or the performance of individual sales reps, or take a global view of their whole team, offering or strategy.
Outreach is divided into three main strands – its Platform, Outreach Kaia, and Outreach Commit. Let's look at each of these in turn.
Outreach.io Platform
The main dashboard used by sales reps and team leaders breaks down corporate sales prospects by company and buyer and shows the current state of play in terms of engagement for each one.
Users can see at a glance how healthy each sales prospect is and engagement clues are clearly visible including the proportion of outgoing emails to replies, the number of engaged prospects and the stage each deal has reached.  The system will flag up deals which are at risk and under-engaged accounts.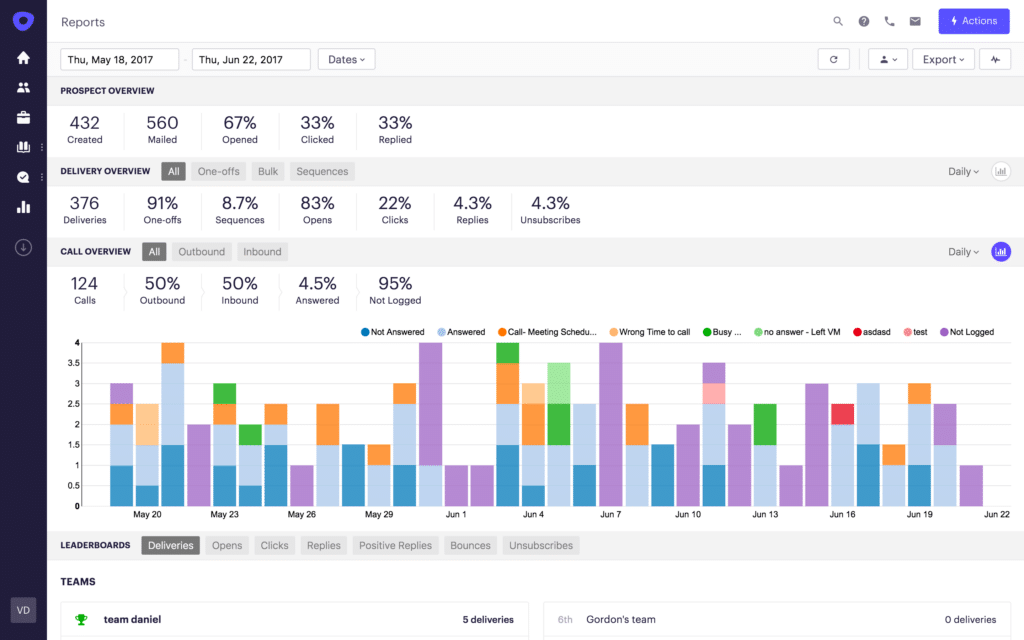 From a rep's point of view, whether they choose to work off the platform directly, or from their email inbox through an integration, Outreach is designed to remove much of the drudgery and chaos from a rep's life. Automation takes care of follow-up emails, meeting scheduling and other mundane tasks, freeing up the rep to actively engage with their clients.
It takes the guesswork away from daily priories too, automatically sorting workload into a systematized task list. This promotes accountability and thoroughness.
Reps who like to schedule their own tasks for the day might find this a little prescriptive, but it makes it much harder to drop the ball by forgetting a call-back, not sending a follow-up email, or letting a lead go cold. And when faced with a quarterly performance review, most reps would prefer an improvement to their strike rate over full personal autonomy any day of the week!
Outreach Kaia
While there are many platforms offering sales insights and productivity tools, Kaia is where Outreach really begins to pull its weight. Kaia is a digital assistant that monitors, transcribes, and enables meetings in real time. For instance: during a call a rep offers to send over a proposal document. Kaia will pick up on that and trigger a reminder to do so, or pull up a relevant document, allowing the rep to fulfil that commitment in the moment.
Kaia effectively gives each rep their own digital PA, helping them keep on top of the many actions and touch points that constitute an individual deal. This allows the rep to concentrate on the human interactions, while the digital assistant regiments the process. 
Outreach Commit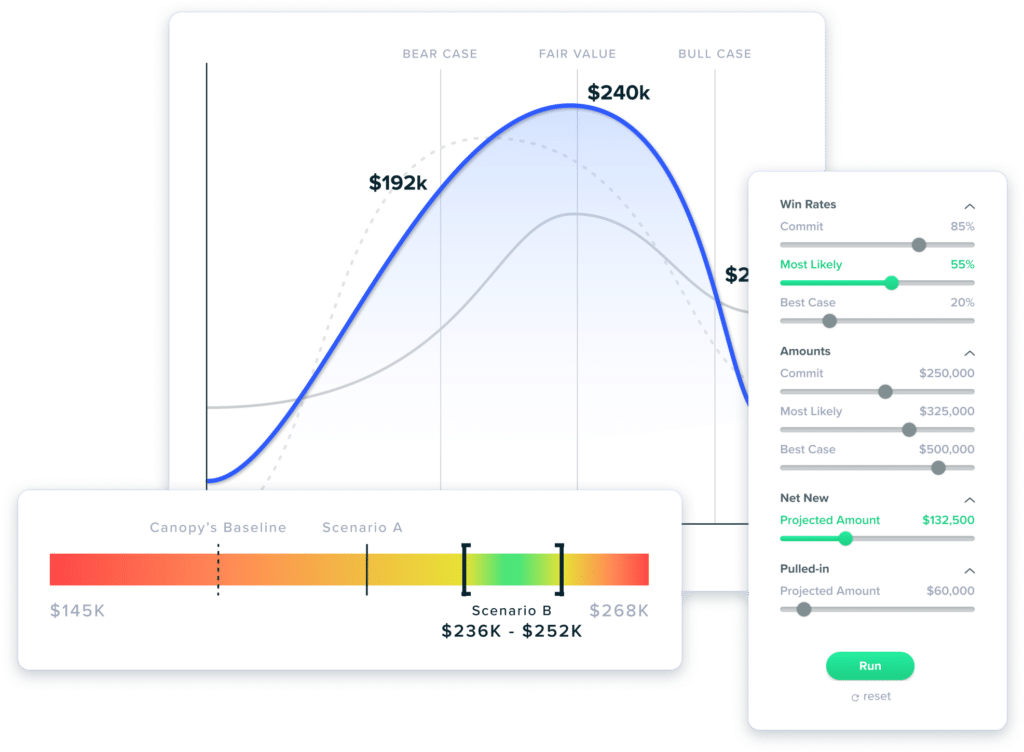 Commit is Outreach's analytics suite, pulling all the sales rep behavior, lead conversions and engagement stats into one place, and throwing in a forecasting tool for setting goals. The notion behind Commit is that data from the whole team can be leveraged to increase certainty when pursuing new strategies. 
Commit allows sales leaders to see which types of engagement are working best, and which specific playbooks and individual communications are underperforming. It displays this information in an easy to interpret dashboard with full transparency over the whole conversion pipeline. 
Outreach will display projected revenue too, giving the team realistic outcomes to shoot for.
Success Plans
One final element of Outreach worth mentioning is its Success Plans panel. This dashboard is designed for sales managers to track the individual performance of their reps, and then direct coaching where it's most needed.
In the Success Plans view, all current deals can be analyzed, and roadblocks identified, whether they relate to a lack of engagement, a training gap, or a playbook which needs tweaking.
All in all, Outreach is a hugely thorough suite of sales workflow tools aimed at mid- to large-scale teams. The resources part of their website boasts a blog, webinars, articles, a podcast, and a "sales hacker" community where Outreach uses can exchange tips, feedback, and queries. It's fair to say that there's no shortage of ways to learn how best to optimize the platform to your advantage.
Outreach.io Main Features
Communication Portal: You can send emails, texts, schedule calls or video meetings all from the Outreach portal. Alternatively, it integrates with email, for reps that prefer to work from their inboxes.
Outreach Kaia: As described above, this AI-driven digital assistant transcribes both sides of your meetings, flags up any actions for later and offers helpful prompts, such as price lists, as they crop up in the conversation.
Outreach Commit: This sales forecasting panel gives leaders an overview across the pipeline and all open deals, allowing them to identify areas which are underperforming.
Success Plans: A collaborative approach to deal-making where stakeholder engagement and implementation is made transparent between buyer and seller, improving trust and confidence.
Playbooks: Build a library of playbooks that deliver and call them up whenever required to push buyers down the pipeline.
Sentiment Analysis: Outreach's own research showed that email reply statistics alone can't be trusted, so they use AI-driven sentiment analysis to break buyer responses down into categories including "positive", "objection" and "unsubscribe", so that you can make better sense of the data.  These results are delivered in their Outreach Insights suite of reports.
Deal Acceleration Tools: These tried and tested sequences can be added to individual deals to accelerate conversions. Managers can trigger them for underperforming accounts, automatically adding them to the to do lists of their reps.
Outreach.io Integrations
Outreach is designed to replace many of the tools with which lesser systems integrate. Nevertheless, integrations are available with a huge range of apps, listed on their site as "native", "supported" or "third party".
Native
Salesforce, Microsoft Dynamics 365 Sales, Gmail, Outlook, Microsoft Exchange, Google Calendar, Outlook Calendar, LinkedIn Sales Navigator, RingCentral, Dialpad, Intercom, SendGrid, Crunchbase, Okta, Onelogin, Twitter, Dark Sky, Mapbox
Supported
Vidyard, Drift, Showpad, Qualified
3
rd
Party
ZoomInfo, DiscoverOrg, Seismic, Gong.io, Bombora, Terminus, Demandbase, 6sense, G2, REGIE, Orum, LeanData, Clari, Chorus.ai, ConnectAndSell, Sendoso, Alyce, Highspot, Workato, Crystal, BombBomb, Tray.io, OneMob, Drift Video, Dooly, ExecVision, Chili Piper, DocSend, Sigstr, Opensense, Lusha, Domo, Hull, SalesInfo.io, RingLead, Aircall, SugarCRM, Postal.io, Avoma, TopOPPS, Hiplead, LiftIQ, Tribyl, Hippo Video, Nudge.ai, Jiminny, BigPicture, SnapApp, Nova.ai, Datanyze, Reachdesk, B2Brain, Wiza, Wingman, OBMetrix, SalesCompete, LeadIQ, Datagrail, HubSpot, Koncert, Troops, Autobound
Outreach also invite users to request an integration, if one is not currently available, providing a contact form for such enquiries.
Is there a Zapier integration for Outreach.io?
There is currently no Zapier integration for Outreach.
Outreach.io Pricing
Outreach's site provides a contact form for pricing quotations, basing its estimates on head count, and use case. It is difficult to provide a hard and fast statement about how much you might pay, therefore. However, we managed to glean the following from user forums:
Outreach's base rate is $100 per user, per month, which works out as $12K per year for a business with a sales team of ten. 
More advanced subscription options exist which increase the per user cost, while adding additional functionality. At these prices, Outreach is clearly not a tool aimed at the small business or self-employed individual.
Outreach.io G2 Score
On G2.com, Outreach scores an impressive 4.5 stars from over 2500 reviews. The G2 user ratings are 8.3 for both ease of use and quality of support, and 7.6 for ease of setup.
Outreach boasts an impressive 91% for its content templates, 92% for its automated emails and 88% for its task management features.
The only user review aggregate scores which dip below 80% were for some of its incentives (badges and triggered well done messages), its commission calculator and, perhaps of most concern, its machine learning, although such algorithms are typically rather hit-and-miss.
Here's what Outreach users have to say about it on the G2 site:
Positive
"With Outreach I can now create focused messaging for the right people on a topic, track the interactions and understand what's resonating and what's not."
"Nothing is as user friendly as Outreach".
"Game changer for cold outreach to prospects and outreach to hot inbound prospects at scale."
Negative
"Spend a lot of time explaining how to work Outreach."
"The UI is not very intuitive. It can be hard to find things."
"Tracking outbound call making is time consuming."
Outreach.io Capterra Score
On the Capterra review site, Outreach gets 4.5 stars overall in summary, and 4.2 stars for both customer service and ease of use. Features score 4.4 and value for money is rated at 4.3.
User feedback is largely very positive. Here's a sampling:
Positive
"Overall, I'm a huge fan of Outreach. It's a tool that I'll look for in my next company or at least recommend."
"Love the efficiencies that this allows me to leverage."
"It's every marketer's dream to be able to set up Outreach for business development reps and have them follow it."
Negative
"Sometimes it shuts down or gets really slow".
"Integration with Salesforce is slow".
"Navigating around Outreach is a pain. Things aren't always in the place you think they would be."
Outreach Competitors
If Outreach isn't for you, here are some of the competing products available:
Groove – A full-featured sales intelligence tool which boasts 70,000 enterprise clients.
Klenty – Focused on sales engagement optimization, this costs just $35 per user per month.
GetAccept – For prospecting and communication, this budget option offers a free version.
Outreach.io Summary
Although it's a little pricey and there may be lagging issues at peak times, Outreach is a very thorough and sophisticated way to optimize your whole sales pipeline and assist your sales team, while ensuring they operate consistently.
Scrape LinkedIn Sales Navigator
Scrape & personalize cold emails without the hard work