Read our Klenty review and see what other professionals have to say, learn about pricing, popular features, and discover all current integrations.
Klenty is an AI-powered Sales Execution Engine that organizes and prioritizes your follow ups, sends beautifully-designed emails that guarantee opens and clicks, and manages your appointments and demos. Your inboxes are filled with replies and appointments, and tasks are completed in a fluid and elegant fashion.
As a result, your customers' reactions, emails, and calls to action are amazingly received, relevant and (most importantly) effective. All your appointments are booked, your demos are thoroughly reviewed, and your sales pipeline is enhanced.
To achieve exactly that, Klenty utilizes various optimization algorithms, including NLP (natural language processing), to study your prospects' email responses, then gives them a personalized (machine-generated) message that's tailored for them. It manages your email conversations with specific criteria and decides the best possible response to a given email.
The result: you make the most of your prospect's buying journeys and solve your sales problems. You gain traction on your marketing, conversion and sales efforts, and increase sales and profits without the use of costly and sluggish traditional lead management techniques.
Klenty Review – Introducing Klenty
Using Klenty, you'll be able to:
Easily organize follow ups to generate leads and close more deals
By combining text mining, sentiment analysis and natural language processing, Klenty has been created to maximize your business's potential and add value in every step of the sales process.
Send relevant, personalized emails (using NLP)
By using NLP (natural language processing), Klenty analyzes and understands emails on your lists. The results of the analysis are then used to customize your messaging, targeting your prospects as best as possible and, consequently, boosting your open rates and nurturing your sales pipeline.
Automate LinkedIn
Visiting each profile and submitting a connection request can be a time-consuming task. With Klenty, you can batch request connections to your LinkedIn prospects with one click so you can optimize your appointments and maintain a solid contact base.
Access the Cadence Playbook
Playbooks allow you to target prospects depending on how they engage with your emails. You can select your audience based on whether or not they open your emails, click on links, or reply to your emails.
Manage client campaigns
Klenty offers a dashboard for managing all client campaigns. Focus on the essential metrics that matter. Save hours every day to meet client targets.
Attend / manage appointments
You can organize appointments, compare to your previous performance, easily access leads and opportunities, see how your data is doing, and implement additional strategies to increase your sales performance.
Klenty Review – Integrations
While Klenty natively integrates with Pipedrive, Zoho, Hubspot, Salesforce, and Slack, their main benefit comes from their internal automations and deep integration with Zapier.
Thanks to the Klenty Zapier integration you can automate your sales outreach even further. Through the various Zapier triggers & actions provide you with the following benefits:
Never update your contacts

manually


Engage instantly with prospects who show intent

Conversations in Klenty. Instantly in your CRM

Outreach without leaving your CRM

Create an action plan for every

rep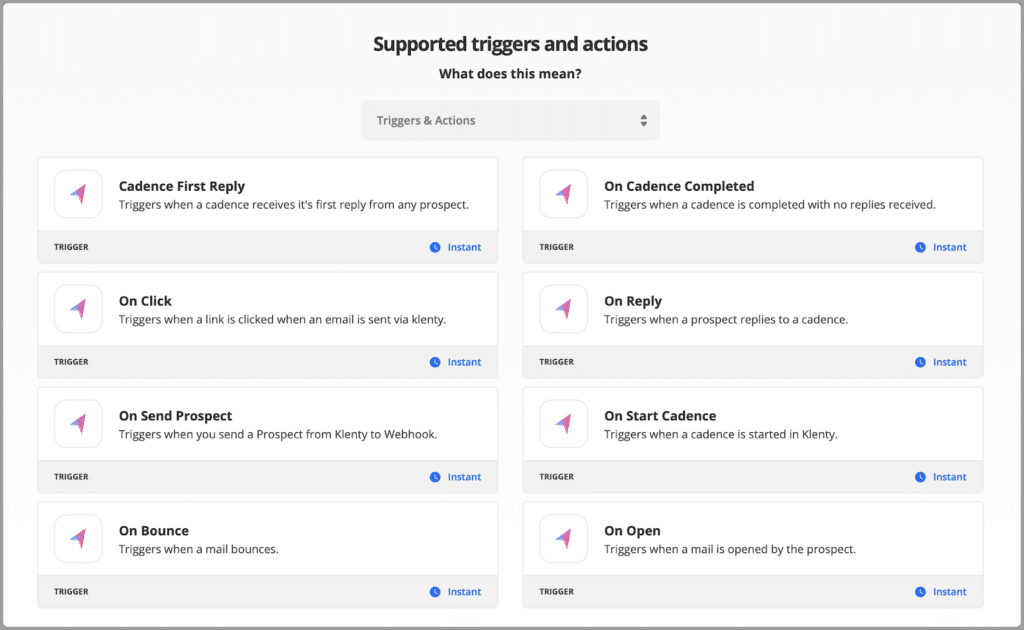 Klenty Review – Pricing
Klenty offers three plans: Startup, Growth, and Enterprise. The Startup plan, priced at $35 per user per month, includes email cadences, Gmail plugin, Mail Merge, API integrations, and many other features.
The Growth Plan provides clients with cadence playbooks, multichannel outreach, hot prospects, and other resources to help businesses grow at $60 per user per month.
The Enterprise plan, which costs $100 per user per month, includes all features of the other two packages and much more. The company offers free trials for 14 days (and a money back guarantee.)
Detailed information about pricing, perks, and product links can be found on Klenty's official website.
G2 Score | 4.6 out of 5 stars (143 reviews)
"Straightforward and easy lead nurturing tool" 
"Great sales cadence tool – Helping us do what we couldn't do with other tools" 
"Great for cold email. Needs to improve on reporting"
"It's fine if you are not gonna use HTML/styled templates. Otherwise you'll regret."
"Solid Product for Email Automation"
Reviews collected by and hosted on G2.com.
Capterra Score | 4.8 out of 5 stars (30 reviews)
"A comprehensive sales tool for outreach "
Overall: We have set up our outbound process on Klenty. The founder is supportive and accessible. The support team has been helpful in helping us get started. Outbound is all about scaling slowly and consistently and Klenty allows us to do that. We also got some solid tips on how to not abuse emails and flounder.
Their experience of working with 100's of other businesses globally is definitely handy. Just from the experience – – Campaign set up in 2 days flat. – Smooth CRM integration – The support that doesn't disappoint you.
Pros: Klenty as a product is built around one core objective – making the outreach more impactful. Everything revolves around setting up cadences. The part that sales reps screw up the most. Works amazingly well when you are setting up your outbound process.
Cons: Would ideally want to have one solution for calling and emailing. Twilio pricing should be baked in the product and not as an add-on.



"Kicks Ass and Takes Names"
Overall: Amazing software at an amazing price. A must have for any business tech-stack
Pros: Packed with features without the features without the need for a degree in computer science to operate it
Cons: They use pink in their logo which bothers me as I'm more of a red type person
Alternatives Considered: SendBlaster and SendGrid
Reasons for Choosing Klenty: Better price, easier to use for staff and better customer service
"Best Sales Automation tool for SMBs!"
Overall: Before Klenty, our sales team was manually sending out emails to potential customers. As we started to scale, that was clearly not working out and we were looking for a powerful email automation tool. We have been using Klenty for a while and couldn't have asked for anything more from the product.
Pros: Klenty makes it very easy to send out sales email campaigns. Our sales team productivity has improved a lot since we started using Klenty because the entire sales process has been put on autopilot. Also, their customer support is awesome. They are very quick and prompt in responding to our queries.
Cons: Nothing so far. Even if we have minor concerns, the support team jumps right in and fixes the issues.



"Amazing software at an amazing price. A must have for any business tech-stack"
Pros: Packed with features without the features without the need for a degree in computer science to operate it
Cons: They use pink in their logo which bothers me as I'm more of a red type person
Reviews collected by and hosted on Capterra.com.
Klenty Review – Main competitors
There are many alternatives and competitors to Klenty, but we believe we have identified the best overall Sales Engagement Software solutions. Among them are Reply, Salesloft, and Mixmax – all of which we believe offer competitive solutions at reasonable prices.
And while there's a lot of competition in the sales enablement space, Klenty helps your sales team segment prospects into buckets based on their behaviour and execute a unique strategy for every prospect.
By employing machine learning and AI, they allow your team to make the most of their sales time by preparing and executing strategic sales plans. This will help you to increase your close rates and improve customer satisfaction, which is great for both you and the prospect.
They also allow you to customize your emails as per the specific needs of your clients, thereby making the selling process more efficient and relevant to your prospects. Lastly, their pricing plans are flexible and affordable, which allows you to adjust your strategy based on your revenue goals.
Klenty Review – Summary
Klenty is a superb tool for automating your sales efforts with maximum impact. A perfect solution to get the best ROI from your sales efforts that brings unique features to the table, leaving plenty of bigger names behind them in terms of value offered.
With the right sales automation tools you're able to create and execute the right strategy for each individual prospect, saving a lot of time and significantly increasing your sales revenue and Klenty seems uniquely equipped to help you do just that.
With Klenty you can build sales outreach funnels and perfect your approach to customers, setting and executing the right sales conversations. Automation is a strategic piece that goes beyond the sales funnel and is essential for any business to be successful in the ever-changing competitive market.
As you go through the various processes with your sales automation tool, there is something you can learn for every step – what works well and what does not. Automation is a valuable resource, and with due diligence, you can train your sales team on how to handle your customers the right way and build the best sales strategy possible.
Scrape LinkedIn Sales Navigator
Scrape & personalize cold emails without the hard work